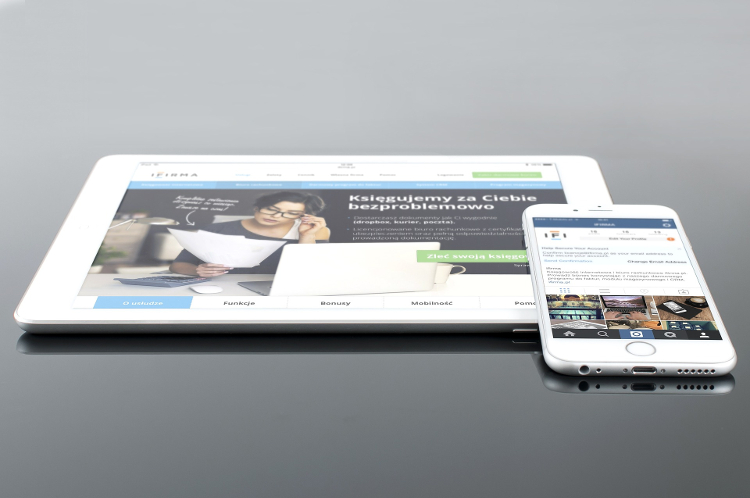 Looking back at the early days of Web 2.0, website design has come a long way. Gone are poorly organized walls of text, clunky navigation menus, and most importantly kitschy color-schemes that make your eyes hurt. The development of technologies such as HTML5, CSS3 and JavaScript5 in recent years has made it possible to develop and design websites that work faster, look better and are genuinely a pleasure to use. However, the sheer number of options currently at our disposal when making websites, makes choosing the correct one more difficult. And making the right design decisions is often what determines if a website is going to fail, or prosper.
To that end, we will try to bring you up to speed with what designers have been working on for 2018. Whether you are designing a personal blog, an online store or a complex social network, these are the trends to watch out for in 2018.
1) Mobile is king
Mobile web browsing finally became the primary way people use the internet. What was once a niche market in comparison to desktop computers, is now the norm. Mobile internet users, as the name implies, surf the web while on the move. In practice, this means that their browsing experience is usually shorter in comparison to desktop users. Mobile users can't afford to wait all day for a web-page to load – they need to access their content quickly and without much hassle. In order to offer the best experience possible for this growing audience, designers are trying to make their websites load faster, scale better for smaller screens, and are easier to use with a touch UI.
2) Custom illustrations
In the last couple of years, the number of websites worldwide has reached one billion. Impressive as this may be, there is a downside to this inflation web content. In order to meet the demand for new websites, designers began relying on stock content design solutions. Unfortunately, this means we are quickly becoming used to seeing the same kinds of images, layouts, color-schemes, etc. The trending solution to this problem is an emphasis on custom-designed content. Recent trends show that popular websites are starting to implement things like site mascots, comic-book like site guides, stylized illustrations, etc. in order to set themselves apart from the competition. Hiring specialist illustrators, or seeking out services of companies like Web Design Sydney can help you stay ahead of the curve in an environment where the singular and the unique now the rule, and not the exception.
3) Vibrant colors
For a while now, flat design has been the go-to standard when making modern websites. The minimalist, function-over-form nature of this design approach has many advantages in the current climate – it looks and runs really well on portable devices for example. Unfortunately, the sought-after simplicity of the style seems to have extended to color choice as well. Designers are now attempting to rectify this. Instead of sticking with monochrome and pastels, they are bringing bold, bright, contrasting colors back to the forefront.
4) Asymmetrical design
Grid-based web-page layouts have been the norm ever since their introduction in the early days of HTML. Their greatest advantage is the fact that designers could quickly and easily arrange web-page elements. However, with the development of technologies such as CSS, designers have acquired the tools necessary step outside the grid. This precipitated the newfound trend towards asymmetrical design. In order for their websites to stand out from the crowd, designers are now experimenting with uneven distances between web-page elements, greater usage of whitespace, irregular text boxes, etc. This emphasis on "broken" layouts is quickly becoming one of the hottest trends in web design, and the one to look forward to especially in 2018.
5) Typography re-appreciated
High-resolution images look great on big desktop or TV screens, and their file-size is usually not an issue at home. They still look good on smaller portable devices such as smartphones and tablets, but the trade-off is usually not worth the extra load times and bandwidth usage. The go-to alternative for images when it comes to making your website come to life is typography. The design impact of a properly chosen typeface has often been underestimated, but it looks like that's about to change. Designer are beginning to realize that an easily customizable, inherently stylized, lightweight design element such as a typeface can do wonders to liven up a website. Bold, contrasting fonts are becoming the new norm in 2018.
Designing for the future
Browsing the web is quickly becoming an indispensable feature of everyday life for many people. As the audience for web-based content grows, so does the demand for new, well-designed websites. If they wish to stay ahead of the curve in the new digital frontier of 2018, designers would do well to keep track of the emerging website design and development trends such as the ones mentioned above.
Download thousands of Themes, Plugins & Graphics to create your Website. Use promo code ThatsJournal and get an additional 10% off
for All MonsterONE Plans
.
Disclosure: Thats Journal is supported by our readers. This page may contain affiliate links. That means, if you click on these links to make a purchase, we may earn a small commission (at no extra cost to you). These funds help us to keep this blog up and running.