Recently, while I was working on one of my old WordPress sites, I was unable to upload images from any one of the methods: multi-file uploader, browser uploader or from the URL. I didn't get any specific error message, it's just that the uploader froze when the image was uploaded and nothing happened. So, my first troubleshooting step was to repair the database from the cPanel. When I repaired the database, everything started working normally and I was able to upload images again from the multi-file uploader.
Not only in this case, actually database repair can solve most of the problems in WordPress. Earlier, in one of my blogs I was getting a lot of 404 errors for most of the pages and once, I wasn't able to login in WordPress admin section. When I repaired the database, it started working and the pages were displayed as usual.
Due to regular usage, especially in old WordPress  sites, database gets corrupted and it causes unexpected things in WordPress. So, the first step in troubleshooting WordPress problems is definitely repairing the database. In your case, it may or may not solve the problem, but for me as a general rule of thumb, I always use this as my first step in troubleshooting WordPress and most of the time, it works.
To repair a database from cPanel, please follow the below given steps:
1) Login to cPanel
2) Click on "MySQL Databases" under "Databases".

3) Under "Modify Databases", click on "Repair DB" button.

4) Wait for a few seconds while the database is getting repaired. After the database repair is complete you will get a "Repair Complete" message.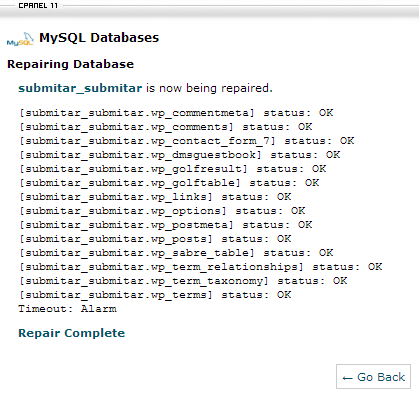 Now, you can check your WordPress site, if the issue is resolved. If the issue still persists, you might require different steps in troubleshooting.
Download thousands of Themes, Plugins & Graphics to create your Website. Use promo code ThatsJournal and get an additional 10% off
for All MonsterONE Plans
.
Disclosure: Thats Journal is supported by our readers. This page may contain affiliate links. That means, if you click on these links to make a purchase, we may earn a small commission (at no extra cost to you). These funds help us to keep this blog up and running.