If you are not getting enough time to write a post in your blog, especially when you are busy with another projects, then it is time to hire a writer for your blog. If you are in blogging for long then you must be aware of the fact that a blog consistently needs posts. If it is not updated in a few months, then search engine rankings for the primary keywords, traffic and Alexa rank of your blog starts dropping. If you would be busy for any other projects for next 6 months or something and you think that you can't post in your blog, then it is time that you hire an author for your blog. Even if they write one post per week, that would be fine. In this post I have made a list of some of the best sites for hiring writers for your blog:
1) Freelancer: Freelancer is the number one site for hiring any type of freelancer. The way it works simple, all you have to do is to create an account in Freelancer and post your project. Interested authors will place bids on your project and then you can pick one as per your requirements.
To create a new project in Freelancer, follow the below given steps:
i) Create an account. Then go to Dashboard –> Post a project
ii) Enter Project Name: This will be name of your project.
iii) What work do you require: Select Writing –> Do Some Blog Posting from the drop down menu.
iv) Enter some skills that relate to the project: Here, you can enter skills which you require from your bidders like "Blog", "Articles", etc.
v) Describe your project in detail: In this section you can describe your project. You can also attach files.
vi) Project type: Select option "I am looking to hire for a fixed price" if you wish to pay writers for a fixed price or select "I am looking to hire per hour" if you want to pay them by hours. Typically, fixed pricing is easier to manage.
vii) Budget: Select the currency and budget for your project.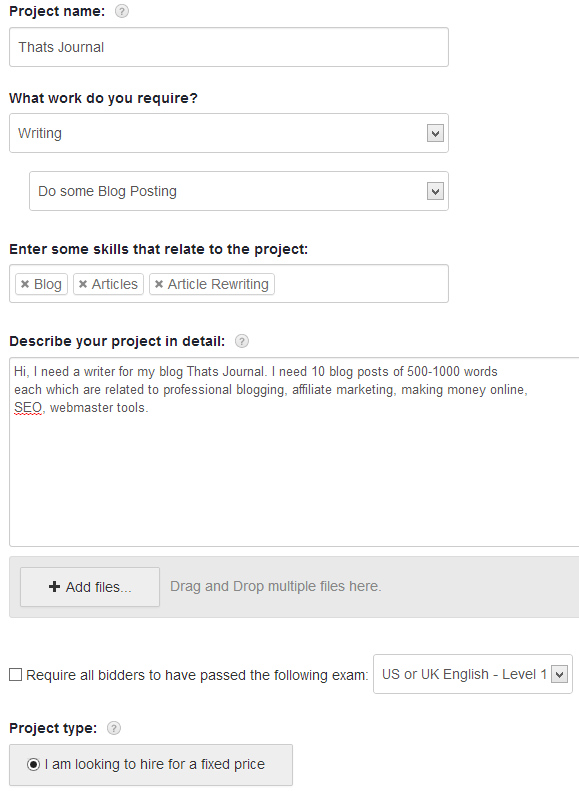 When you are done, click on "Post Project Now".
2) Elance: Elance is also a popular marketplace for hiring writers. There are more than 200,000 writers in Elance. Elance works in the same way, create a project and post a project. After that, authors will place a bid on your projects and then you can approve them.
3) Virtual Staff Finder: If you want to hire authors for a permanent position, say for 6 months or an year then, you can try Virtual Staff Finder. You need to pay a $395 fee upfront and then they will choose virtual writers by interviewing them. Unlike Freelancer or Elance here you can know a bit more about your authors. You can also personally interview the authors in Skype.
4) WitMart: Witmart has more than 100,000 authors. You can create a contest or a contract job type in Witmart. Contest is basically a fixed pricing job and contract is a negotiable job posting. After you post a job writers will place bids on it and then you can pick one as per your needs.
5) People per hour: People per hour is another marketplace for hiring authors. Process of posting a project is similar as that of Freelancer and Elance. You can also pick an author by searching them from the marketplace.
6) 3desk: 3desk is a freelance marketplace for hiring local freelancers. If you specifically want your authors to be from your locality then you can try their service.
7) Freelancers Outpost: Freelancers Outpost is yet another marketplace for hiring writers. You can post a project and when authors place bid, you can accept it. After that, you ca make the payment and the funds will be kept in Escrow. When the project is completed as per your requirements, then the funds will be released to your writers.
Download thousands of Themes, Plugins & Graphics to create your Website. Use promo code ThatsJournal and get an additional 10% off
for All MonsterONE Plans
.
Disclosure: Thats Journal is supported by our readers. This page may contain affiliate links. That means, if you click on these links to make a purchase, we may earn a small commission (at no extra cost to you). These funds help us to keep this blog up and running.