Today we are ready to talk about the best Joomla 4 templates. Before doing this, it is crucial to understand what new features Joomla 4 has prepared for us.
Joomla is one of the most popular CMS in the world. Its main characteristics are all about being a full-featured and open-source platform. It is backed by a massive ecosystem, powering approximately 2 million active websites, and its reputation and demand are increasing day by day.
Joomla is utilized by well-known brands and corporations all over the globe. People from a variety of fields (including business, technology, science, photography, sports, and others) turn to Joomla.
1) An updated and really intuitive admin panel. It is clean, responsive, less complicated, and really simple to use. The new interface is unquestionably the centerpiece of a Joomla 4. The dashboard is created in such a thoughtful way that you have complete control over everything.
2) A fantastic media manager. In Joomla Media Manager, you are free to organize the folder system and manage files more easily. The media management code has been fully rewritten to make it more robust, bug-free, and PHP 7 compliant. In the Media Manager, you can also transfer and copy files.
3) Installation is quite straightforward. Joomla 4 installation has a new appearance and feel, and it has also become extremely easy and incredible. In the "Customize Installation", you will also find multilingual support and sample data to launch every type of website quicker.
4) A better Search Engine Optimization. Search Engine Optimization is critical for every website, and it is great to know that Joomla 4 will take care of all SEO requirements in a professional manner. Joomla 4 will offer a variety of SEO elements to aid with this aspect.
Newest Joomla 4 Templates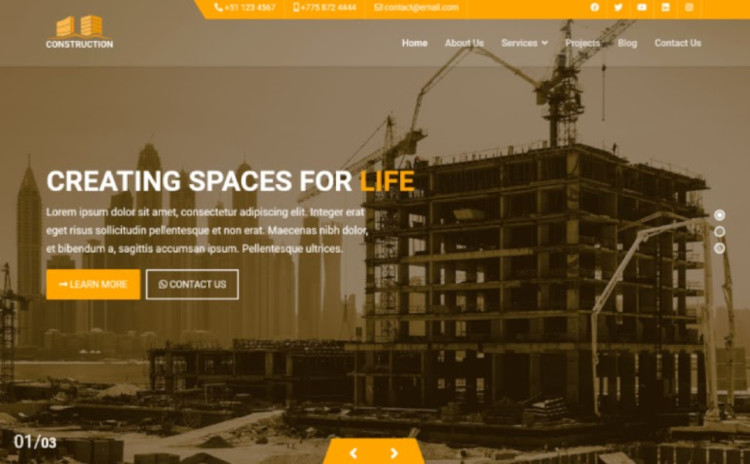 As the name suggests, this beautifully-designed and professional example of Joomla 4 templates is perfect for construction-related topics. It can also assist those who are looking for ways to speak about remodeling, architecture, and interior design.
The package comes together with an effective SP Page Builder. Have you ever heard about this Joomla builder?
It provides real-time frontend editing. You will be ready to edit your content in a drag-and-drop manner. It is also possible to take advantage of such options as an advanced media manager, integrations, typography control, and others.
The biggest number of ready-made templates has a one-click installation process these days. Thanks to a quick start, you are free to install the desired demo in a flash.
By the way, you will get 4 pre-built sites. There are also multiple unique pre-made pages that allow speaking about your services in detail.
As an example, these include such variants: about us, services, portfolio, and contacts. There are also four types of the portfolio that are capable of showcasing your work at its best.
It is impossible to forget about blog functionality. Thanks to this option, increasing your visibility, improving your internal linking, and getting feedback will be easier.
Main Features:
background video;
Google Maps;
mega-menu;
drop-down menu;
fully-responsive design.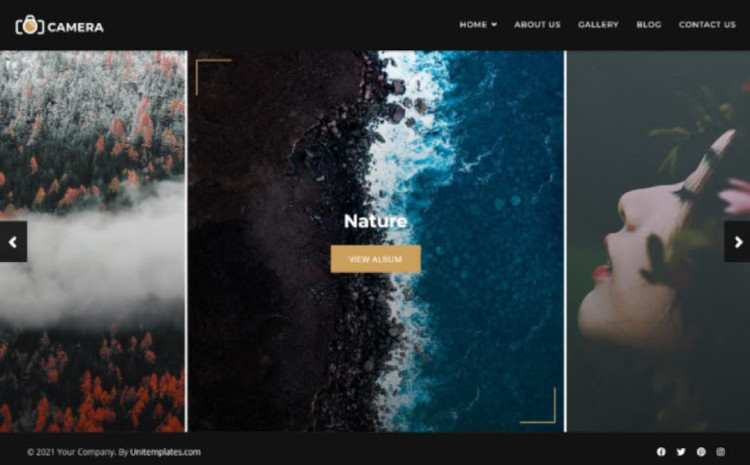 There is no doubt that every photographer requires a remarkable and attractive portfolio. It allows different prospective clients to get familiar with your work and learn more about your personality. To create an eye-catching place to post your photos, you need something like this amazing example of Joomla 4 templates.
To start with, it is critical to mention that the package has the Quick start package. There is no need to worry that you will spend hours installing the most attractive and appropriate demo for your needs. It will take you nothing to complete this task.
In addition to this, you will get 4 pre-built sites. Each of them has a well-structured layout that will display your work in the best possible light.
You might ask us how to alter your content and site appearance?
Together with an easy-to-use SP Page Builder, you have the freedom to manage your website. It includes 62 addons with various styles.
In other words, getting an original online project that stands out from the crowd is not a problem. A drag-and-drop editor will also be suitable for those who know nothing about coding.
Main Features:
Parallax effect;
background video;
mega-menu;
fully-responsive design;
Google Maps.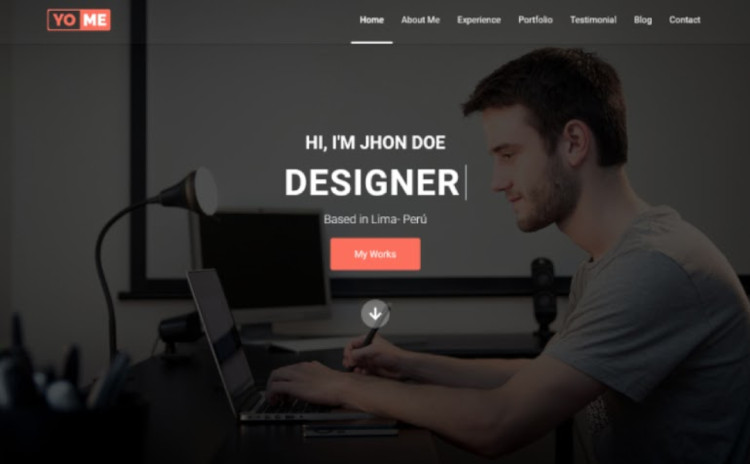 There is no need to speak a lot about our digitalized world. It is quite obvious that showcasing your resume or portfolio also needs to find its place on the Internet.
When one is looking for the right candidate, he or she needs to know all the necessary info about your activity. In our opinion, this marvelous choice from Joomla 4 templates can become your trustworthy assistant.
It gives a chance to build 8 types of personal websites. There are different groups of people who can build an exceptional site based on this effective ready-made solution. These include barbers, mechanics, constructors, trainers, models, doctors, lawyers, and developers.
What options will you find in the package?
To begin with, it is a fully-responsive design. Perhaps, you know that this characteristic is crucial because it provides an optimized browsing experience.
In other words, your potential clients will be ready to look through your content using various gadgets. These include both mobile and desktop ones.
After this, you will need to add your original content to the site. It will be possible for both experts in programming and beginners. A stunning SP Page Builder will turn out to be your assistant. Using more than 62 addons, it is possible to create a website that you have been dreaming of.
Main Features:
five unique portfolio styles;
seven unique blog pages;
mega-menu;
background video;
Google Maps.
To create a decent communication channel for your hotel, you need to build an attractive and easy-to-use site. People need to find all the essential info, and this info needs to be available 24/7.
For this reason, it is critical to create not only an online project but a communication platform that allows getting in touch. Using this well-organized and impressive variant from Joomla 4 template, it is possible to spread the word about your hotel.
First of all, we need to mention the availability of the booking extension form. In other words, your potential guests are free to book the desired room directly on the site.
Furthermore, the package also comes with a contact form. It means that every potential client can get in touch with your team and ask some questions.
What are other functions that deserve your attention?
There are some options that allow decorating your site. These include an incredibly popular Parallax effect and background gradient.
To draw more attention and grow your base clients, implement a newsletter subscription. In this case, people will be ready to learn more about your latest updates.
There is also multilingual support that enables translating your website into different languages.
Main Features:
social share;
mega-menu;
typography and color change;
advanced search;
fully-responsive design.
*Download this template for Free in MonsterONE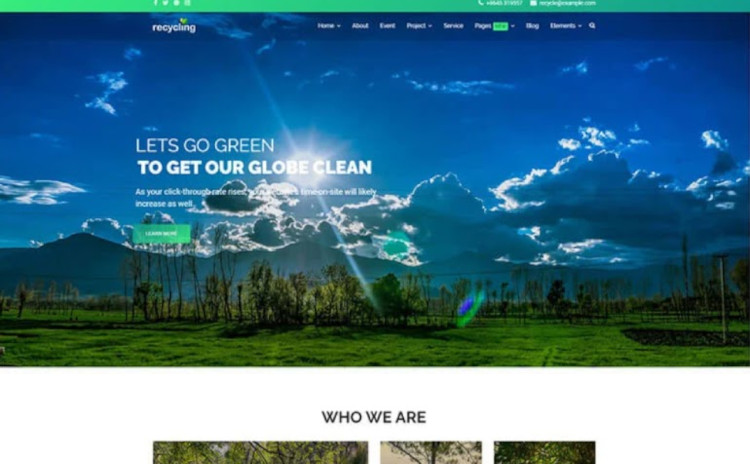 Recycling is a memorable choice that we have found among the best Joomla 4 templates. It can turn out to be a masterpiece for those who need to showcase an environmental or non-profit organization.
Let us start by mentioning the most important options. Thanks to a fully-responsive design, it will be compatible with all modern devices.
Moreover, it includes a wonderful SP Page Builder that is suitable for both programmers and novices at coding.
What options will make sure you get a distinctive website that makes a long-lasting impression on the audience?
You are free to choose from three homepage variations, three slider options, and more elements.
It is also possible to add eye-catching Parallax and non-Parallax banners.
To provide the best user experience, do not forget to add a contact form. It will assure people of trust in your organization and allow them to communicate with your team.
To impress using visual content, try to take advantage of video functionality that allows adding media from Vimeo and YouTube.
You can also add Google Maps to show your physical location.
Main Features:
mega-menu;
boxed layout support;
newsletter subscription;
team members;
QuickStart package.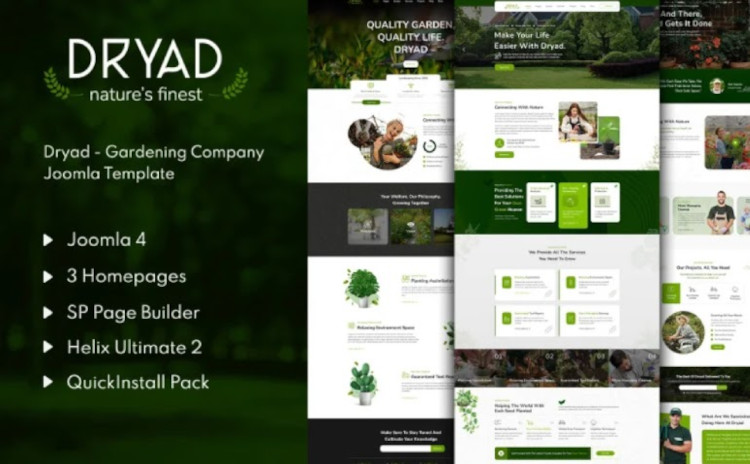 As you can understand, it is hard to find a business that does not require a professional online presentation. A gardening company is not an exception.
Together with this exciting ready-made solution from Joomla 4 templates, you will be ready to get more clients. It is also suitable for those who need to present their outdoor maintenance services on the Internet. 
Without a doubt, it provides impressive visuals and professional tools that allow achieving different goals. There are multiple customization options that make it possible to get an exceptional site.
It does not matter whether you are a specialist in the field of programming or not. Editing your content and website look is available to all the people, no matter what technical knowledge they have.
A fully-responsive design gives a chance to browse your site through different devices. Your visitors can use both mobile and desktop devices to get familiar with your content.
Main Features:
gallery and portfolio functionality;
Google Maps;
team members;
drop-down menu;
blog functionality.
*Download this template for Free in MonsterONE
A Few Words in Conclusion
While choosing the mentioned Joomla templates, we paid attention to the following criteria. These are well-organized design, user interface, usability, ease of use in navigation, and customization flexibility.
As a result, we have managed to find the most good-looking and functional options for your needs. Now you need to consider all their characteristics, topics, and options to choose the best ones.
Before purchasing the ready-made solution of your dreams, here is something that you will adore. It is our promo code "ThatsJournal" that grants a 5% discount on all Joomla 4 templates.
We hope that you will get started with your online project as soon as possible, thanks to one of the ready-made solutions.
Thanks for reading!
Download thousands of Themes, Plugins & Graphics to create your Website. Use promo code ThatsJournal and get an additional 10% off
for All MonsterONE Plans
.
Disclosure: Thats Journal is supported by our readers. This page may contain affiliate links. That means, if you click on these links to make a purchase, we may earn a small commission (at no extra cost to you). These funds help us to keep this blog up and running.