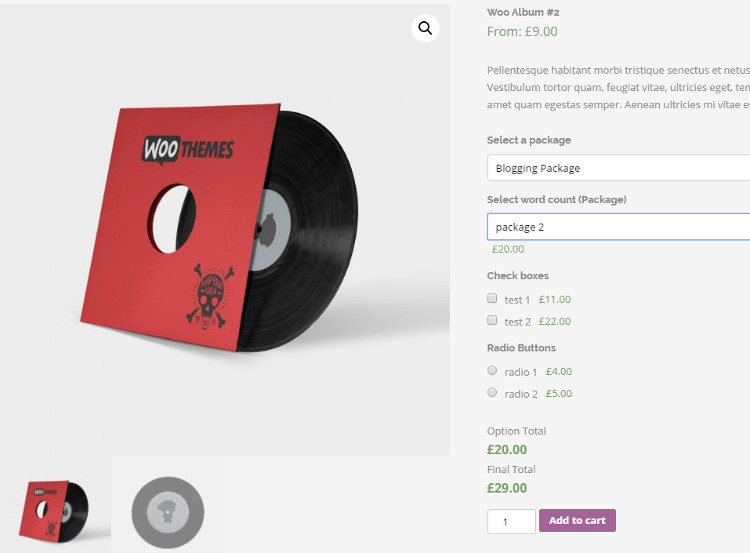 In this post I will discuss about a WordPress plugin which you can use to add multiple pricing, variable pricing and dynamic product price for products in your WooCommerce store. WooCommerce default pricing is pretty basic and if you want to add extra fields and options to your products in the product pages you can do that by using this plugin. Users can select the options for the products as per their needs and the prices for products will be updated automatically based on their selection.
You can also add check boxes, radio buttons, upload forms, text area, range picker, select boxes, input boxes and color picker on your product pages. These elements can be placed anywhere on the product pages. Plugin comes with visual form builder to easily create forms and edit pricing options. You can translate the plugin in any language.
Here are the features of this WooCommerce WordPress plugin:
Create any number of packages for adding multiple pricing as per your requirements.
SEO optimized and fast loading WooCommerce plugin.
Users have the option to select the package as per their requirements and the price for the product will be updated instantly.
Add any number of price fields for products.
Compatible with WPML WordPress plugin.
Translation ready.
Option to change images when the package is changed for the product.
Add multiple images for single product in your store.
Options to add radio buttons, check boxes, drop down menus, text area, select boxes, upload forms, input boxes, color picker and range picker on your product page.
Plugin comes with form builder which you can use to easily create custom forms as per your needs without coding.
Option to display check boxes and radio buttons in grid view.
You have the option to limit the number of check boxes select by the customer as per your requirements.
You have the option to add fixed prices and prices based on percentage for the extra field pricing in your store.
You have the option to put extra price for the package of products based on conditional logic.
You can add the fields anywhere on the product page as per your choice.
You can enable same settings for all your products or you can edit your products separately.
You can also show the extra fields based on user roles.
Option to upload and download the product price data in CSV format.
Plugin supports lazy loading for images.
Option to show or hide prices for products as per your choice.
You have the option to display selected packages as pop ups.
Download thousands of Themes, Plugins & Graphics to create your Website. Use promo code ThatsJournal and get an additional 10% off
for All MonsterONE Plans
.
Disclosure: Thats Journal is supported by our readers. This page may contain affiliate links. That means, if you click on these links to make a purchase, we may earn a small commission (at no extra cost to you). These funds help us to keep this blog up and running.