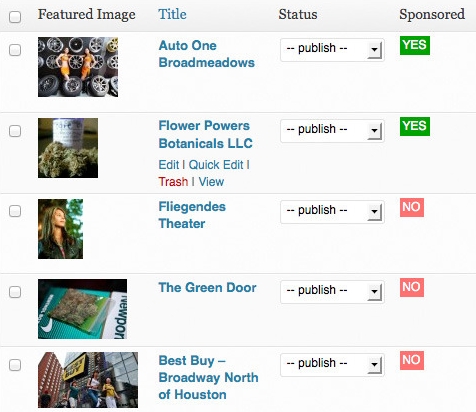 By using this WordPress plugin you turn any WordPress blog in to a classifieds site. It completely turns your WordPress blog in to a yellow page site where users can post advertisements. Plugin uses custom post types for creating classified listings. Listings are sorted by using categories.
Here are the features of the plugin:
1) Custom front end user registration in WordPress: Users can register to the site and post their classified ads. These ads will be approved by the admin before they go live. You also have the option to auto publish listings. However, that is not a good idea as many spam listings will also be posted.
2) Featured listings: Featured listings are paid which will be highlighted at the top. Listings which are bought as featured and if the payment is not made after a few days (this you can set up as per your needs), then the listing will be automatically removed.
3) PayPal integration: Paypal is integrated in the plugin and users can buy featured ads and pay you via PayPal. You also have the option to select PayPal currency, and PayPal locale.
4) Expiration of classified ads: You can set up an expiry period for free ads. Paid ads can be listed for unlimited time.
5) Works with any WordPress theme: By using this plugin you can turn any WordPress theme in to a classified and yellow page site.
6) Google maps support: Support for Google maps is included so that users can specify their locations on map.
7) Widgets support: Plugin also provides useful widgets for displaying featured listings, free listings, etc.
8) Classified listing settings: For the classified listings, title and content are required fields. You can enable or disable visual editor for content section of the listing. By using visual editor users can post HTML in content. From the plugin settings page, you can enable or disable excerpts or summary, tags or keywords, comments for listings, phone number, website URL, email address, personal details like Name, Company name, Address, City, Zip, State and Country.
9) Email notifications: Automatic email notification are sent to users when their listing is expired. You can set up the From email address from which the notification emails will be sent.
10) Option for users to edit and delete classified listings: After a classified listing is published you can allow users to edit and delete the published listings. You can enable or disable these options as per your needs.
11) Option for users to add images: You have the option to allow or disallow users to upload images. You can also limit the image uploads to a particular number of files and limit individual file size to a particular number of MB from the plugin settings page.
12) Change default text: You also have the option to edit the default text used in the classifieds site and use your own custom text.
Download thousands of Themes, Plugins & Graphics to create your Website. Use promo code ThatsJournal and get an additional 10% off
for All MonsterONE Plans
.
Disclosure: Thats Journal is supported by our readers. This page may contain affiliate links. That means, if you click on these links to make a purchase, we may earn a small commission (at no extra cost to you). These funds help us to keep this blog up and running.