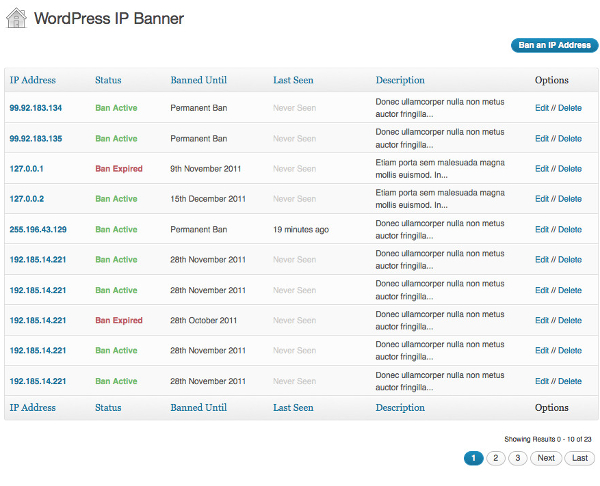 Due to reasons like excessive spamming, or for any other reasons, you may wish to ban certain users from your WordPress site. By using this WordPress plugin, you can ban users in WordPress blog by using IP address. All, you need to do is to install the plugin, enter the IP address of the user you want to ban from your WordPress site, select a ban interval and the users from the selected IP address will be banned and they will not be able to access your site.
Here are the features of this plugin:
1) Set ban interval: Either you can set an interval for banning a user from option "Ban until the following date" or you can permanently ban a user.
2) Display custom message: You have the option to display a custom message to the users you have banned. You can edit this message as per your requirements.
3) Re-direct ban users: You also have the option to re-direct the banned users to particular custom URL which you can set up as per your needs.
4) Enter multiple IP addresses: You can enter multiple IP addresses, separated by commas, for banning users.
5) Ban log: This WordPress plugin creates a ban log where you can check when the banned users have tried to access the site. It stores the exact date and time of users when they have visited your site.
Download thousands of Themes, Plugins & Graphics to create your Website. Use promo code ThatsJournal and get an additional 10% off
for All MonsterONE Plans
.
Disclosure: Thats Journal is supported by our readers. This page may contain affiliate links. That means, if you click on these links to make a purchase, we may earn a small commission (at no extra cost to you). These funds help us to keep this blog up and running.