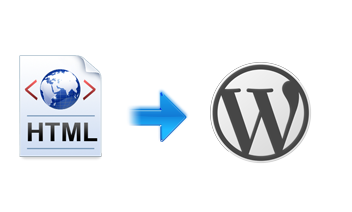 In this post, I will discuss about a WordPress plugin which you can use to convert any HTML theme in to a WordPress theme. If you have an old HTML theme and you wish to use this theme as a WordPress theme in your blog then, you can create a WordPress theme by using this HTML theme.
Here are the features of this plugin:
1) No experience required: All you need to do is to install this plugin in your WordPress site and follow the steps given in the documentation. You don't need any advanced coding knowledge to convert your theme. Simple HTML knowledge is enough. However, you do have to edit the HTML codes of your HTML theme by using an HTML editor. There is a sample HTML theme provided with the plugin package. If you wish you can test this theme to convert it in to a WordPress theme.
2) Create menus and widgets: You can create any number of menus and widgets for your WordPress theme.
3) Create post section and footer section: You can create post section and footer section for your WordPress. You can edit these sections as per your requirements.
4) Different page templates: You have the option to create different page templates in your theme.
Download thousands of Themes, Plugins & Graphics to create your Website. Use promo code ThatsJournal and get an additional 10% off
for All MonsterONE Plans
.
Disclosure: Thats Journal is supported by our readers. This page may contain affiliate links. That means, if you click on these links to make a purchase, we may earn a small commission (at no extra cost to you). These funds help us to keep this blog up and running.