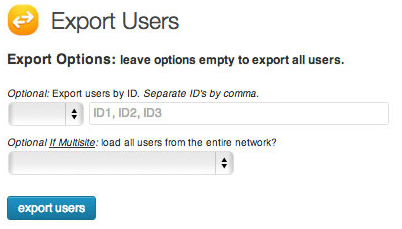 In this post, I will discuss about a WordPress plugin which you can use for exporting (downloading) users and then importing (uploading) them to another blog. By default, there is no option in WordPress to download and upload users from one blog to another blog. This plugin is useful if you are using a multisite and if you have many users which you wish to download and upload to another blog. Apart from a multisite network, it is also useful for WordPress installs for directory sites, or coupon sites in WordPress where you have many registered users.
Here's how this plugin works:
Step-1: Firstly, install the plugin in to your first blog from where you want to download the users. Then, you can export the users from the plugin admin section. You can export individual users based on IDs or you can export all the users at once. When you click on "Export users", a code is generated.
Step-2: Now, install the plugin in to your second blog where you want to upload the users. Copy the code from Step-1 and then paste it in to "Import" field in this blog. Here, you can select any one of the two options as per your requirements:
1) Add: For old sites. Keep all current users and just add the new ones to the list. This option will give new user IDs to the imported users starting from the current highest ID.
2) New: For new sites. This option will keep the user IDs as they are on your current blog. If the same ID already exists in the database then the user will not be added.
Click on "Import Users". That's it. You have successfully moved the users from one blog to another blog.
Download thousands of Themes, Plugins & Graphics to create your Website. Use promo code ThatsJournal and get an additional 10% off
for All MonsterONE Plans
.
Disclosure: Thats Journal is supported by our readers. This page may contain affiliate links. That means, if you click on these links to make a purchase, we may earn a small commission (at no extra cost to you). These funds help us to keep this blog up and running.