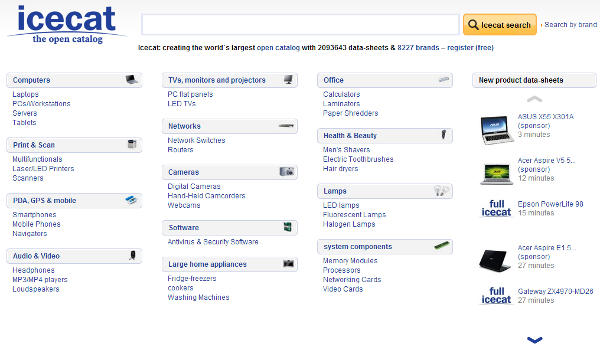 IceCat is an open catalog which contains information about various products in about 35 languages. It contains two million product records of 8227 brands and products. To locate a product record, you can search the product by brand in IceCat.
By using this WordPress plugin you can integrate IceCat product catalog in WordPress blog or in your WooCommerce store. All you need to do is to install and activate the plugin. Then, create an account in IceCat and in the plugin settings page, enter your IceCat username and password. Then, select the language of your IceCat catalog. From the plugin settings page you also have two other options:
1) Update title: If you select this option then the plugin will update post or page title from IceCat.
2) Update body: If you select this option then the plugin will update the body content of the post or page with the product description of the particular product from IceCat.
Now, when you are creating a post in WooCommerce you can enter brand, SKU and EAN details from the IceCat catalog. After that, data will be uploaded to your WordPress blog. Plugin will update the title of product, product description, create a custom permalink for product, add product specification for the particular product and will upload the product image.
Download thousands of Themes, Plugins & Graphics to create your Website. Use promo code ThatsJournal and get an additional 10% off
for All MonsterONE Plans
.
Disclosure: Thats Journal is supported by our readers. This page may contain affiliate links. That means, if you click on these links to make a purchase, we may earn a small commission (at no extra cost to you). These funds help us to keep this blog up and running.