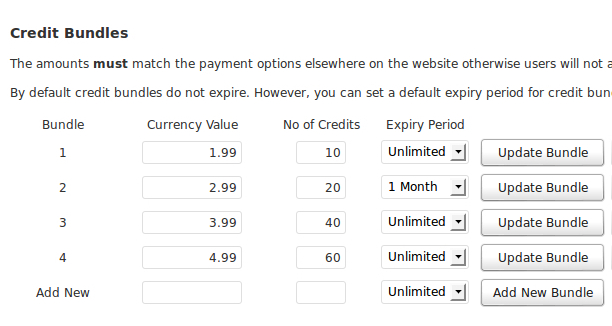 If you are running a service or selling any products in your blog, then offering virtual currency as user credits is a great idea. Everyone likes freebies, and your users will keep coming back to make more credits. On special occasions you can giveaway free credits to the selected users of your blog. These points or credits can be used by users of your blog to buy services or products. Offering credits is an excellent marketing strategy as many users will put in more money from their pocket to use the credits effectively. That way, again, you are increasing the sales. Also, it will increase the number of returning visitors of your blog. Any business depends on the number of returning customers, even if it is a blog. By the use of this WordPress plugin you can integrate user credits system in your blog in minutes.
Here are the features of this plugin:
1) Set up conversion rate: From the admin page you can set up the conversion of credits to actual money.
2) Paypal integration: Users of your blog have the option to buy credits by using Paypal which will be displayed in their accounts.
3) Award credit points: You also have the option to giveaway small amounts of credits to new users. This will encourage them to join in your blog.
4) Edit credit points: From the admin page you can edit the number of credits which are designated to a particular user.
5) Shortcodes support: You can display the credits balance in the front end of your blog by using shortcodes.
6) Credit packages: From the plugin settings page, you can create credit packages by selecting currency value, number of credits and expiry period for the particular package.
7) Automatic credit updates: Every day the plugin automatically updates the credit points two times for every user. You also have the option to manually update credit points for users from the plugin backend.
8) Set up credit balance messages for users: From the plugin settings page, you can set up messages for users for displaying Credit balance message, Decrease credits message, Not enough credits message, Decrease credits grace period message, Access denied message, Increase credits message, and Increase credits update lock message.
Download thousands of Themes, Plugins & Graphics to create your Website. Use promo code ThatsJournal and get an additional 10% off
for All MonsterONE Plans
.
Disclosure: Thats Journal is supported by our readers. This page may contain affiliate links. That means, if you click on these links to make a purchase, we may earn a small commission (at no extra cost to you). These funds help us to keep this blog up and running.