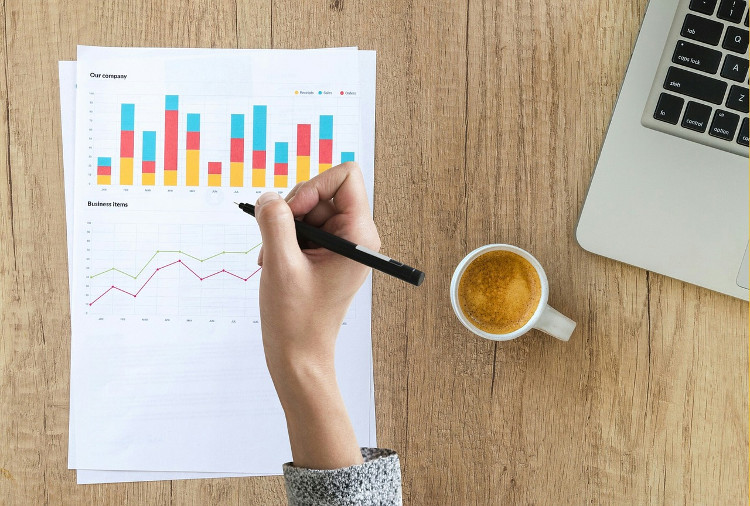 Website audits allow you to find parts of your site that are causing performance lags, undermining your search engine rankings, or giving people a bad user experience.
Whether your an online business owner or a digital expert with ecommerce clients, carrying out an ecommerce site audit is essential to the continued success of your business.
From reviewing online branding for consistency, to checking out customer reviews, this is how to conduct an ecommerce audit quickly and effectively.
Recommended reading: 6 Free WordPress Plugins That Will Speed Up Your Website
Make sure your online branding is consistent
You must start the process of auditing an ecommerce site by making sure it's represented consistently online. On a basic level, this means that the branding and company details need to be the same wherever possible. It's surprising how many sites neglect basic details like this! Going beyond branding basics, you need to make sure that your brand is well represented and has a good overall online reputation.
Review your web presence
One of the first things to check is all the business/online listings the company is currently featured on, and whether the name, address, and phone number (NAP) are correct.

Why does NAP matter? Because consistency increases the chances of the business being found in searches (particularly local ones) – if it's been listed correctly. It builds trust.

You can check your business listings quickly and efficiently using Moz Local, a free tool that shows you where you're listed, what your customer reviews say, and whether any of the information is complete, incomplete, inconsistent, or duplicate: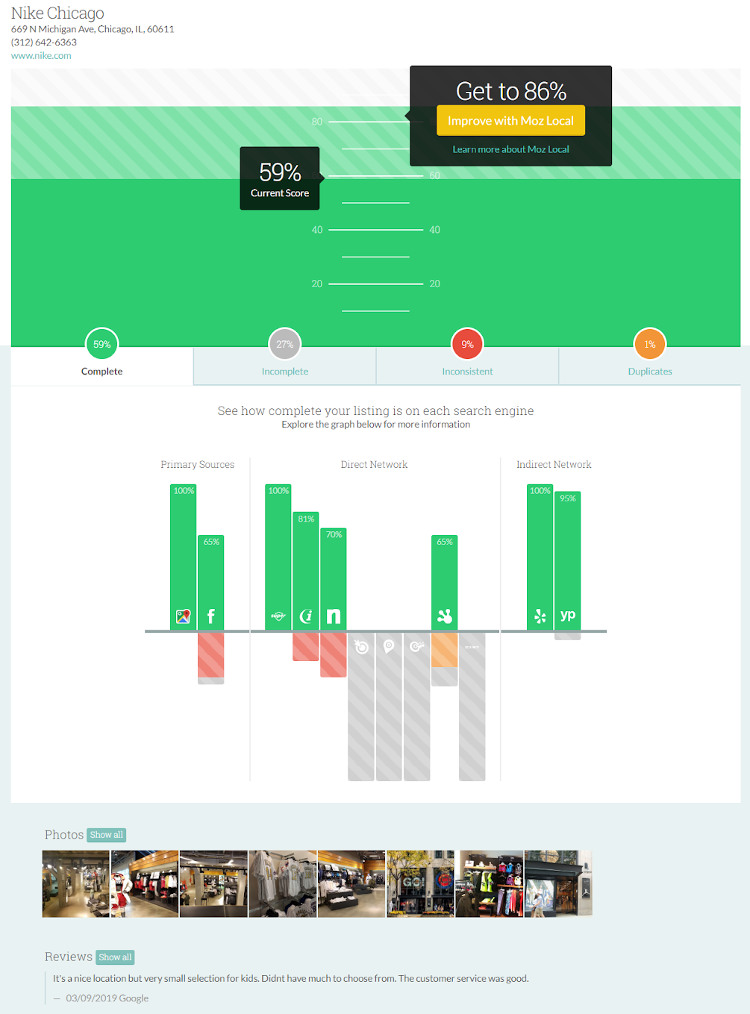 If the business isn't shown on all available listings, then there are some missing opportunities to help boost your site in search results — and you'll know where to focus your initial efforts.
Branding
Branding is about controlling the conversation around how a company is perceived by people – customers, prospective customers, and anyone who comes into contact with you will form an opinion of your brand.

Branding must be consistent everywhere — from your website to your social media accounts, marketing documentation, and more. As part of your audit process, you need to review every facet of the company to make sure the messaging is consistent throughout all of these channels. Pay attention to small details like LinkedIn bios and terms & conditions pages — these are often missed, but should definitely be part of your brand audit. Make a not of anything that seems 'off brand' or hasn't been updated in awhile.

Use brand monitoring and sentiment tools to help determine how well the brand is faring in the customer ecosystem. This is super important when it comes to building value and equity in your brand.
Review your on-page SEO
The better optimized a site is, the greater the chances are of it being found and visited by happy customers. On-page SEO involves optimizing individual web pages to get more relevant traffic and boost a site's overall search engine rankings. Three important facets of on-page SEO are content, title tags, and your site's URL structure.

When auditing a site for on-page SEO, there are several excellent tools you can use. Sitechecker gives websites a score for their on-page SEO, highlighting any critical errors and flagging up any warnings (like the example from Nike's website below):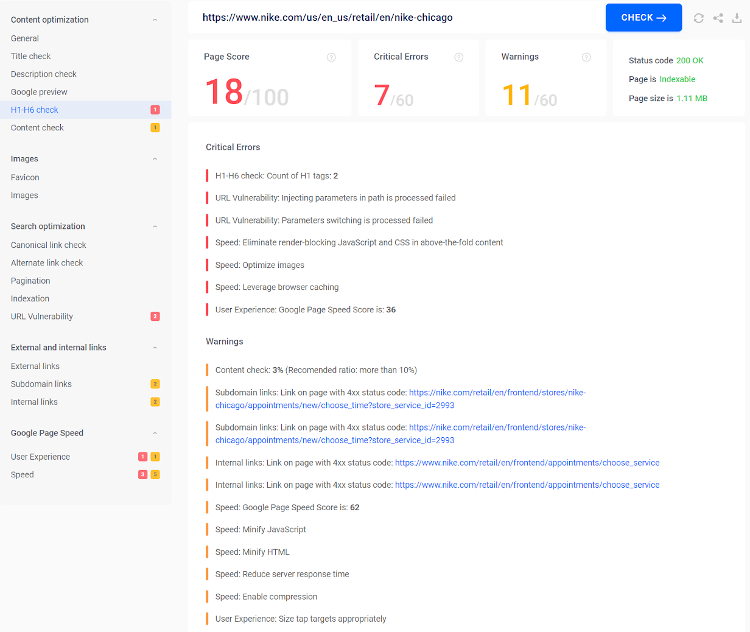 As you can see, even the best websites can improve their on-page performance.

It's important to check on-page SEO because slight changes can add real value. Making straightforward improvements to a web page's content, title tags, and URL structure helps your ecommerce website enjoy a quick upturn in traffic and potential revenue.

For more tips and guidance on improving on-page SEO, watch the great video below:
Making simple changes will boost the ranking of the store, driving fresh traffic to the site, and increasing the chances of people buying goods from the company – in short, it's a great way of quickly growing your business.
Check site speed
Load speed matters to both your customers and to search engines – people get impatient if a website takes more than a couple of seconds to load, and Google takes this into account within its ranking algorithm.

Lighthouse is free, open-source software that lets you audit the performance of a website, including its speed. The software provides you with a range of reports which show any areas the site is falling down on, along with explaining how any issues can be fixed – from complex issues like changing page scripts and code to simple ones like optimizing the images.

Images are one of the biggest causes of slow ecommerce website loading times and optimizing them is a quick way of improving the speed of a website. Some of the things that cause images to slow a website down include:

Publishing large images
Using complex file formats
Unspecified dimensions
Not including caching info
Luckily, there are plenty of easy ways to stop images from slowing down your ecommerce website, including:

You can also use Photoshop to resize all of the images at the same time, as the video below demonstrates:
See what are the reviews saying (if anything at all)
Social proof is a huge deal in ecommerce, so much so that people trust the opinions of their fellow shoppers as much as those of their friends and family. Finding out how highly people rate your ecommerce site is both crucial and straightforward — all you need to do is use the right tools.

Trustpilot is your starting point for customer reviews: it's the industry standard and brands use their rating with TP as a selling point. Sitejabber is another great tool for auditing customer reviews. It was set up to let customers leave reviews of businesses they've used, and give prospective shoppers a chance to see what they can expect: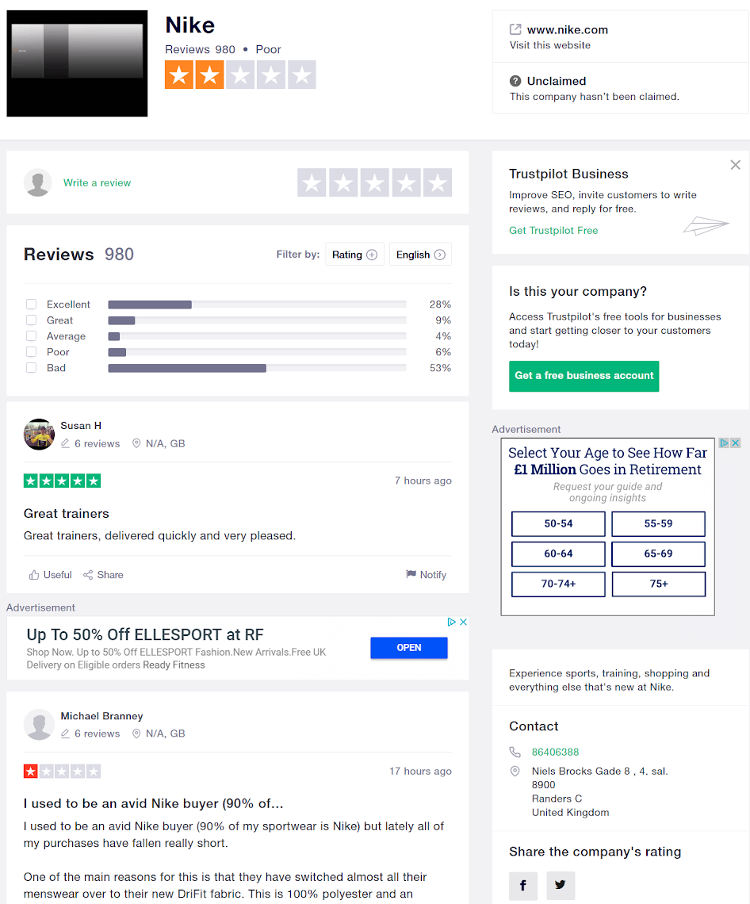 There are some important things to remember when auditing your reviews:
No reviews doesn't necessarily mean it's all bad
Take extreme reviews with a pinch of salt
Bad reviews might represent an opportunity
Do you engage with positive reviewers? Too often we focus on the negative ones, forgetting to reward good behavior!
To get more customer reviews for your site, try out some of the tips from the brilliant video below:
An ecommerce website can provide you with a valuable asset, so long as you audit it properly and establish its true value. By carrying out a proper site audit you can establish the areas for improvement and make quick upgrades that help it to bring in more money – for you or your clients.

Download thousands of Themes, Plugins & Graphics to create your Website. Use promo code ThatsJournal and get an additional 10% off
for All MonsterONE Plans
.
Disclosure: Thats Journal is supported by our readers. This page may contain affiliate links. That means, if you click on these links to make a purchase, we may earn a small commission (at no extra cost to you). These funds help us to keep this blog up and running.