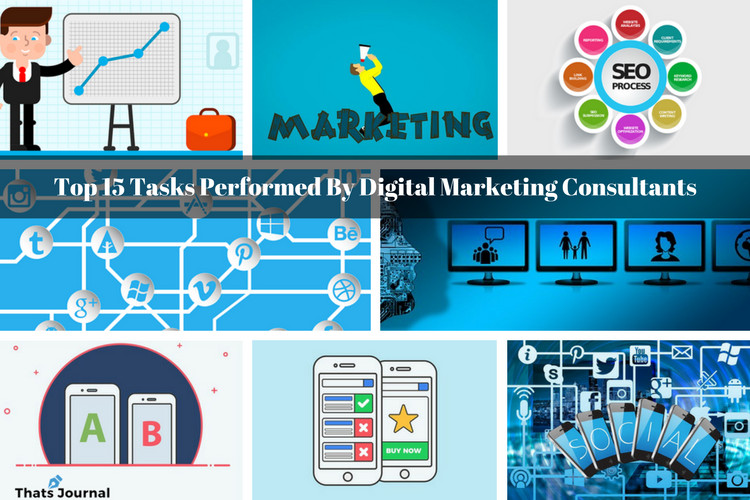 In a digital world, traditional business models are being disrupted by digital technologies. Even the established traditional business models which were so perfect in the past are facing stiff competition from their newer digital counterparts. Lately, most of the businesses are adopting the digital media as digital is the way forward. Since everything is going digital, marketing has also changed and there's a new breed of marketers known as digital marketers which have emerged. In this post, I will discuss about a typical job description and day to day tasks performed by a digital marketer.
Here are the top 15 tasks performed by digital marketing consultants, managers and internet marketers: 
1) Create a digital marketing strategy: This is the first step for a digital marketer. Every client and business is different and a marketer has identify the key performance indicators (KPIs) for a business and create a digital marketing plan accordingly. A key performance indicator can be anything like revenue, number of sales, number of visitors, number of leads, etc. The marketer has to identify the KPIs for a business and create a plan which will make sure that there is an identifiable growth. Without a plan, one can never know if the digital marketing efforts are working or not.

2) SEO Optimization of the websites: SEO is the most important free way to get new visitors and leads to a company website. It is the most powerful way of getting leads as compared to any other medium. A digital marketing consultant has to continuously go through the website data to analyze for potential problems with the website. Diagnostics on Google Analytics, Google Webmaster tools, SEO tools,Website Up time, traffic and new leads provides a fair performance idea about a website.
3) Research for new updates: SEO is an ongoing process. A marketer has to be always on their toes to check for new updates on top tier blogs like Google Blog, Search Engine Land Blog and Moz Blog. These updates are helpful to create what would be the next plan to drive more relevant traffic to the company website.
4) Follow relevant influencers on social media platforms: As a web marketing manager, one needs to make sure that they are up to date on the new case studies created by the influencers on Twitter, Facebook, LinkedIn and more!
5) Work on the content plan for the company website: A digital marketing consultant has to follow a schedule to perform the marketing function which was created in the initial plan. It includes posting scheduled blogs, scheduling social media updates, and updating of the company website.
6) Keyword research: This is the most important step in bringing free traffic to your site via SEO. You can use tools such as Google Keyword tool to analyze and identify  the right keywords for your business and use them in the title tags and meta description of your web pages.
7) Hashtag research: Similarly, you need to perform hashtag research by using tools such as RiteTag to find relevant hashtags for your social media posts and use them accordingly in your posts. Here's an article which describes on how to leverage hashtags for social media marketing.
8) Market Research: As a digital marketing manager one has to keep researching for new ideas and platforms to generate relevant traffic, new leads and thus more conversions for the company.
9) Checking emails and keeping track of current events in the company: Simultaneously an online marketing consultant has to make sure that they are checking their emails for vital updates on the company news, like Press Releases, important updates and events​​ and to make sure that maximum result oriented content marketing plan can be created by using these updates.
10) Email Marketing: To check if the emails of the company are properly designed and are as per the industry standards. For Example, to make sure that the list we are building is a double opt-in list which is now an industry standard as per the Can Spam act.
11) Working with vendors: A digital marketing expert needs to make sure that the external vendor deliverables are reaching in a timely fashion, it could be videos, Infographics, web design for a new landing page, tweaking the website, etc.
12) Leads Tracker: To create a leads tracker to maintain and manage the​​ incoming leads and their status. It is critical for a B2B as well as a B2C company to make sure that the leads are sent to the respective sales teams with proper lead follow instructions.
13) Creating reports: An internet marketing manager has to create reports to identify if the content marketing efforts ​​are moving in the right direction. The reports should include a quick analytics breakup based on geography, target audience and number of new and returning visitors.
14) Analyze and measure the performance of the active ad campaigns: A marketer has to continuously analyze the advertisement campaigns which are running now whether Google Adwords, Facebook ads, Twitter ads or any other type of ads. A marketer needs to drill down the reports for the active campaigns and tweak the campaigns accordingly for optimum performance.
15) Optimize the blog posts and content on the website: By using keyword research and basic SEO concepts, an online marketing manager has to optimize the content on the website whether it is blog, images or any other page in the website.
Here, I have mentioned only the important tasks performed by digital marketers. However, there are plethora of other ad hoc tasks performed by digital marketing consultants on a day to day basis.
Download thousands of Themes, Plugins & Graphics to create your Website. Use promo code ThatsJournal and get an additional 10% off
for All MonsterONE Plans
.
Disclosure: Thats Journal is supported by our readers. This page may contain affiliate links. That means, if you click on these links to make a purchase, we may earn a small commission (at no extra cost to you). These funds help us to keep this blog up and running.