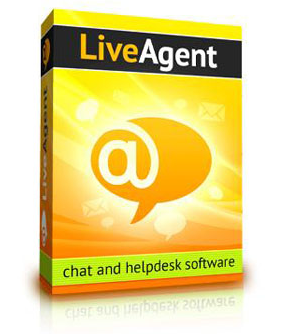 It's 2014, and we are celebrating, by offering five downloadable licenses of LiveAgent help-desk and live chat software for free. You can use this license for installing LiveAgent live chat software on your servers. You can easily install LiveAgent on your WordPress, Drupal, Joomla, Magento, Adobe Business Catalyst, Expression Engine, or Weebly powered site. Each downloadable license of LiveAgent is worth $99, that means the total value of this giveaway is = $99 x 5 = $495.
Advantages of a live chat software:
i) Incredible tool for answering questions of your clients: A typical customer always has questions related to a product. After all, they are about to buy a product or a service and it is logical that they wish to clear all their doubts about your product. You can let them browse through the knowledge-base but this is not a great idea as far as the effective customer support is concerned. Some people might not find what they are looking for in the knowledge-base and instead of hitting the Contact button they might hit the back button. On the other hand, a live chat button keeps hanging on your site and it encourages your customers to click on it.
ii) Real-time solutions: A live chat software lets your customers to connect with you in real-time. It offers a web-based interface for your clients to connect with your support department. Neither they have to wait for an answer of the support emails nor they have to pick up their phone to call you.
iii) Increase in conversions: It is a proven fact that a live chat software increases the rate of conversion. Since, all the customer queries have been answered, users will fully understand about your product or services.
iv) Interactivity: A live chat software makes a website more interactive. It adds a human touch and helps your customers to understand your products in a better way.
Features of LiveAgent live chat software:
1) Full fledged help-desk and live chat system: By using LiveAgent you can add a live chat button on your site. Users of your site can use it for chatting with a support representative. Not only that, it also manages the support requests via emails and incoming calls of the users.
2) Supports voice calls: Users can directly call your support department from their computer. You can also generate a 1-800 support number which can be used by your customers to call your support department via regular phones.
3) Ticketing system: LiveAgent has an in-built ticket system to manage all the support requests. Advantage of a ticket system is that you can track the open support requests easily. Thus, ensuring that every support request is handled before it is closed. For any type of customer request whether, its chat request, email support request, a feedback, a call or a request from social media it is saved as a ticket. It is also helpful is automatically assigning support requests to your customer support representatives. A support representative has an option to escalate a ticket to another department or to another agent. You can set this up as per your requirements. A support agent can mark important tickets by using tags so that if a similar issue arises again in future then old tickets can be used as a reference. LiveAgent has in-built spam control mechanisms which helps in getting rid of spam messages automatically. You can also display business hours based on departments in the chat module.
4) Support requests from Facebook and Twitter: Your customers can directly send support requests from your Facebook and Twitter accounts. Facebook wall posts and tweets are automatically converted to tickets and are assigned to respective agents.
5) Knowledge-base: Apart from the above given features LiveAgent has an in-built knowledge-base which your customers can use for searching answers to common questions related to your products and services.
6) Feedback and suggestions module: Your clients can send feedback and suggestions for new features related to your products and services. You can easily track these feedback and suggestions from a user-friendly interface. Other clients can vote on these features and suggestions which you can then plan for execution. When a request is finished you can mark it as completed.
7) Forum support: LiveAgent features a forum which can be used by your clients to discuss about your products and services.
8) Responsive and adaptive support system: LiveAgent is fully responsive and adaptive to any device like a smart phone (iPhone, Android phone, Windows phone, or a BlackBerry phone) or with any type of tablet (iPad, Galaxy tab, Nexus, etc.). Agents can track and reply to support requests from their cell phones and tablets.
9) Customer support representatives and agent badges: Based on the tasks performed by your agents, you can assign them badges with different levels like Novice or Master. These badges help in maintaining a healthy competition between your agents and support representatives.
10) Support Analytics: You can check your support Analytics like the number of incoming and outgoing messages, calls and chats on an hourly basis. You can also generate graphical performance reports by department, by agent, by tags and by channels.
11) Support feedback: Your customers can rate a support request. This feature is helpful for tracking the problems in the support process. Based on these ratings, you can generate performance reports of your support representatives.
12) Visitors overview: Another useful feature of LiveAgent is that it provides more information about your visitors like IP address and location of your visitors, at which page of your site they currently are, and the time spent by them on your site.
13) Reporting: You can create plethora of reports by using LiveAgent like tracking the display of chat button on your site, ticket and calls load, mapping your visitors and other useful reports.
14) LiveAgent integration: LiveAgent can be integrated in any WordPress, Joomla, Magento, Adobe Business Catalyst, Drupal, Expression Engine, and Weebly site. You can integrate LiveAgent with eCommerce systems like 3DCart, Actinic, Magento Go, Opencart, CS-Cart, and Prestashop. LiveAgent can b integrated with mail tools like MailChimp, Aweber and GetResponse. You can also integrate LiveAgent with HighRise and NiceReply CRM tools.
15) Available in 19 languages: Currently, LiveAgent supports 19 different languages.
To enter in the giveaway, all you need to do is to perform simple social actions:
1) Like us on Facebook: 10 points
2) Follow us on Twitter: 5 points
3) Tweet about this Giveaway: 5 points
4) Leave a comment on this post: 5 points
Based on these points we will choose five winners.
To enter the giveaway, login using this Rafflecopter interface:
UPDATE: This Giveaway has ended. Thank you for participating!
Note: After we choose the winners, we send a notification email to confirm their email address. Winners have to confirm their email address within 3 days. In the event, if they don't confirm their email address within 3 days, we will pick a new winner.
All the best! and we wish you a very happy and prosperous New Year!
Download thousands of Themes, Plugins & Graphics to create your Website. Use promo code ThatsJournal and get an additional 10% off
for All MonsterONE Plans
.
Disclosure: Thats Journal is supported by our readers. This page may contain affiliate links. That means, if you click on these links to make a purchase, we may earn a small commission (at no extra cost to you). These funds help us to keep this blog up and running.