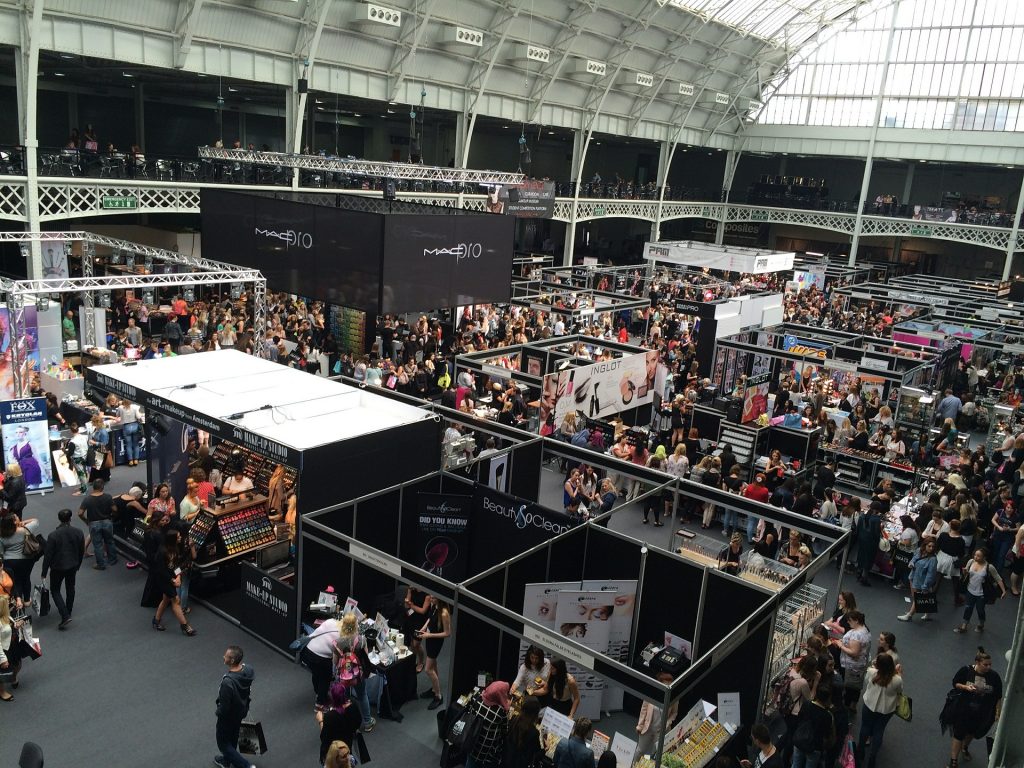 Exhibiting at a trade show can be great way to grow your business, helping you to build awareness of your brand, introduce your company to prospective customers, and develop relationships. However, exhibiting does take a lot of time, money and organization, so you need to make sure you really make the most of the opportunity. Here are our top tips to help your company stand out from the crowd.
Be Seen
Trade shows often take place in cavernous rooms with hundreds of exhibition stands, so if you want to maximize your visitor numbers, it's essential that your booth stands out. Large PVC banners are a great way of attracting attention to your brand, and reinforcing your brand identity. Unlike some other marketing collateral, they are suitable for both indoor and outdoor use, making them extremely versatile. The quality of your company is reflected in your branding so make sure the banner you use is durable and printed with high quality inks.
The right clothing can also help to get you noticed. Matching, brightly colored T-shirts will help your staff to stand out, and you could even try fancy dress if it's relevant to your brand.
Employ Fun Gimmicks
Don't be afraid to use gimmicks – they can be a great way to attract people to your stand, and they help to introduce a little fun into proceedings. Competitions and quizzes are always popular, as are interactive games. You could even set up a photo opportunity at your booth (such as a photo booth, 'head in the hole' board, or giant prop) and get people to share their pictures socially using an event-specific hashtag – helping you to get more visitors and increase your social media reach.
Give Out Freebies
Never underestimate the power of a freebie. We love free stuff, and so having giveaways on your stand is a great idea. This could be the standard USB sticks and desk puzzles, free samples of your product, or something completely different. For the most effective freebies, put yourself in the attendees' shoes and think about what they are most likely to value. In the hectic atmosphere of a trade show this can be as simple as the opportunity to sit down with a cup of coffee (on branded cups of course!), or even a glass of bubbly. When in doubt, go with sweets or chocolate. Few people can resist the lure of free food, and in the time it takes them to pick up the treat and unwrap it, you can deliver a killer 30-second pitch about your company.
Use Your Best People
Having the right people on your exhibition stand is absolutely crucial to the success of your trade show. It's amazing how often exhibitors at shows look totally disinterested and don't bother engaging with potential customers. On the other end of the spectrum you get pushy and overly aggressive salespeople, an approach which can be equally off-putting. Make sure your stand personnel are enthusiastic about your brand, know your company inside out, and are able to engage with potential customers without coming across as too overbearing. Trade shows involve long days, so people who can maintain a high level of energy and enthusiasm throughout the event will be a huge boost to your brand.
Follow up
A good follow-up plan is essential if you want to convert those leads into future customers. Make sure you capture the details of everyone who stops by your stand – you could do this by asking people to enter their business cards into a prize draw, or in some cases you can use technology which enables you to capture the person's information from their delegate pass. After the event, send them an email thanking them for stopping by your stand. You can use this opportunity to tell them a bit more about your company, and maybe include some special discounts on your products or services. Not all brands will take this step, so paying attention to your post-event marketing strategy could help to give you the edge over your competitors.
When it comes to standing out from the crowd, there are loads of options available to you. And with a bit of forethought and creativity, you can ensure that your exhibition stand is the one that attendees flock to.
Download thousands of Themes, Plugins & Graphics to create your Website. Use promo code ThatsJournal and get an additional 10% off
for All MonsterONE Plans
.
Disclosure: Thats Journal is supported by our readers. This page may contain affiliate links. That means, if you click on these links to make a purchase, we may earn a small commission (at no extra cost to you). These funds help us to keep this blog up and running.