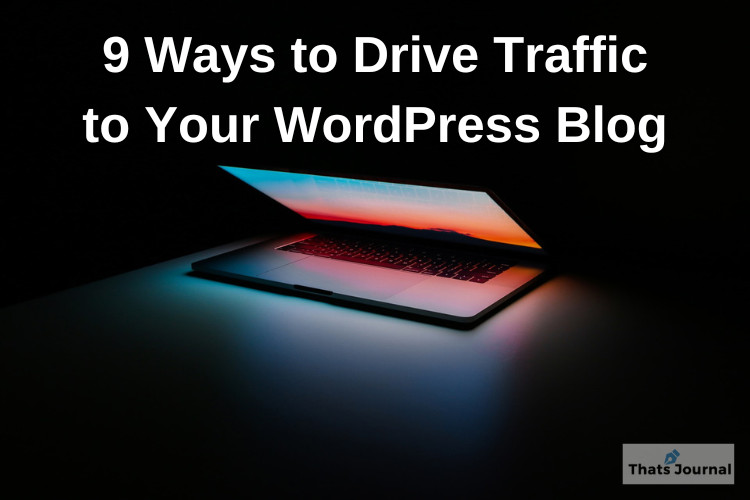 Did you know that having a blog is essential to your business in many ways? From maintaining your online presence to keeping and getting more customers – a blog can be very beneficial.
At least half of Australian small businesses not only don't have a blog, but they don't even have a website. And creating a website is simple with WordPress website builder.
However, once you make the website and your blog, that's not where you stop. You should work on creating a great site with relevant content. And in addition to that, work on driving traffic to your site.
To help you out we gathered a list of tips that can help you drive traffic to your WordPress blog right from the start.
Allow search engines to find you
To drive traffic to your site, you need to allow search engines to find you. In many cases, you will need to check your privacy settings and set them up so that your site is visible to all search engines such as Google or Bing.
Additionally, you can try to verify your WordPress site through different search engine platforms. If you're not sure how to do this, don't worry. You always have the option of hiring local SEO services in Sydney and they will take care of all the search engine optimization for you.
Optimize for keywords
You need to optimize your blog content for keywords if you want to be successful at blogging. Keyword optimization consists of researching, analyzing, and selecting the best keyword that will drive the traffic to your site and rank your site higher so that you can get the right traffic.
There are many useful tools that can help you find the best keywords for your blog content. Through those tools, it will be much easier to find popular terms and also find keywords that don't have too much competition.
When you're choosing keywords for your blog post, make sure you choose the words with excellent conversion rates but that is also not used a lot by your competitors. Only keywords as such can help your posts rank higher and drive more traffic.
Make the most of internal links and backlinks
Internal links lead to other posts on your website, while backlinks are the incoming links to your content from external websites. Both these types of links can help you get more traffic.
With internal links, you can lead your visitors to other similar or related content on your site, which in turn increases the page views. It can also increase shares if visitors find your content relevant.
For backlinks, on the other hand, you need to find reputable and quality blogs that want to feature the link to your blog. This can be difficult even for experienced bloggers but especially if you're a beginner.
Don't forget free resources
Many of us completely overlook how good free resources can be for driving traffic to our sites. Free resources are anything that can be downloaded for free on your site – printables, audio files, checklists, e-books, and so on. The best thing about these free resources is the fact that they work for any niche.
When offering free resources, the best strategy is to build an e-mail list through it. Technically, in exchange for a freebie, you're asking the users for their e-mail addresses. This way, with an e-mail list you can notify your audience every time you post something to your blog. This is a great way to get consistent traffic to your WordPress blog.
Of course, the other option is to make your freebies downloadable for anyone and in that way get more links and more traffic. People love getting free stuff and if your free resource is good, it will attract more clicks and shares.
Make social media your best friend
Today, it's really important that a business has at least one social media page if not more. Platforms such as Instagram, Facebook, LinkedIn, Twitter, and so on, are perfect examples of free platforms where you can build your online presence.
In addition to your regular posts, these platforms are also perfect for sharing your blog articles.
And if you want your visitors to share your articles on different social media platforms, don't forget to add a sharing button to your blog. If the audience likes your post, they are more likely to share it across different platforms which can make your blog post go viral.
Write good headlines
Would you click on a blog post with a boring headline? You probably wouldn't, no one would. And that's precisely why you need to polish your headline writing skills. A powerful and catchy headline can make all the difference – it will stand out from the rest and it will get you more clicks.
The most important thing when writing headlines is to create headlines that trigger an emotional response – either joy, fear or excitement, or anything in between. Of course, you can always rely on tools that can help you write better headlines.
Website design is important
WordPress offers a wide variety of themes on the market. When choosing one, make sure you choose a good one. Website design can make a huge difference since it can increase or decrease traffic on your site.
Bad design is usually a reason why not many people spend time on your page. On the other hand, a good design can help people stay longer on your page, explore it and discover more content.
When in doubt, always opt for a design that is simple, uncluttered, and functional above all. Simple and clean pages are more visually pleasing and they offer a better user experience.
Quality content should be posted regularly
Visitors love seeing new and fresh content. It's what keeps them coming back to your site. This is the reason why you should update your site with quality content that is relevant and interesting to your visitors.
In addition to writing quality content and posting it regularly, you can improve and make it more interesting by adding visual aids such as photos, videos, infographics, charts, and so on.
Additionally, since many people don't like reading long posts, they usually skim through texts seeking relevant information, which can make things easier for them. Write your blog posts in short paragraphs, add bulleted lists and make the most of whitespace.
Optimize your WordPress site speed
Your website won't load? That's not a good thing. Slow websites don't have a good reputation and people like to avoid them as much as possible. Not just that, but search engines also judge your site by its speed and load time. And if it's not good, your site doesn't rank well.
To avoid problems of this kind, the best would be to optimize your WordPress site performance by using caching, avoiding unnecessary bloat, and optimizing your images. Generally, images are responsible for slowing down your site, so make sure you optimize them before posting.
You don't have to do this all on your own, if you have an SEO team, they will do all the necessary site optimization for you.
Conclusion
These tips are written in no particular order because they can each drive your blog's traffic on their own. However, the best strategy would be to implement all these tips together to drive your WordPress blog traffic even higher.
And remember that the key is to be patient and to continue learning and improving your online marketing and SEO skills. And if you find them difficult, you can always hire a good SEO agency near you.
Download thousands of Themes, Plugins & Graphics to create your Website. Use promo code ThatsJournal and get an additional 10% off
for All MonsterONE Plans
.
Disclosure: Thats Journal is supported by our readers. This page may contain affiliate links. That means, if you click on these links to make a purchase, we may earn a small commission (at no extra cost to you). These funds help us to keep this blog up and running.