Have you ever wanted to create a website of your own? Create a nice online presence for your business to help increase your sales or simply run a blog, telling people about your awesome adventures or giving them advice? We can help you with that! It is much easier than you think.
The quickest and also painless way of setting up a website is getting yourself a pre-designed template. By getting one you're basically receiving a package with a ready-made website that's ready to go live the moment you download it. All you have to really do is install it on your hosting and fill it with your own content.

So, today we have prepared for you 10 of the best, most – selling HTML5 website templates for various types of sites. They have earned their popularity by having extensive sets of advanced features, thought-through beautiful designs, and their user-friendliness. So, feel free to scroll down and check them out for yourself.
1) Intense – Multipurpose Website Template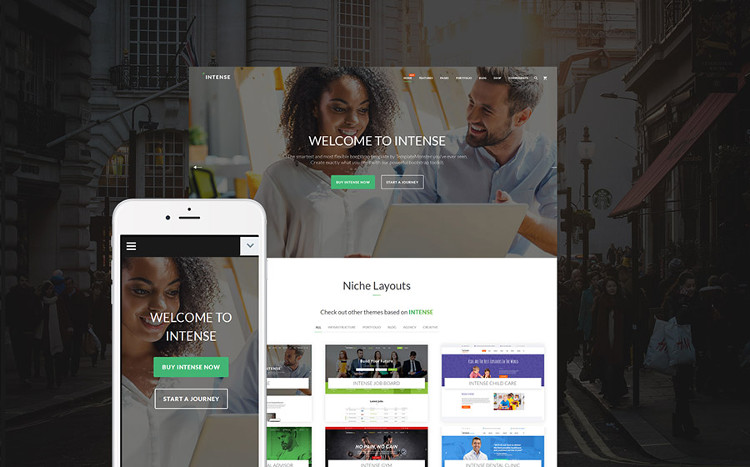 Intense is a huge multi-purpose template packed with everything you would need for creating absolutely any kind of website.
Easily tweak its highly flexible dynamic layout with the help of Novi Builder and an extremely rich UI kit.
Its huge selection of demos provides you with as many as 29 completely different skins to choose from. You also get over 200 reusable elements, 15+ various header & footer styles, 10+ unique eCommerce shop templates, over 30 blog layouts and hundreds of .PSD files.
The implementation of Revolution Slider lets you grab the attention of your visitors from the second they enter your page.
Create immersive designs by implementing parallax backgrounds, adding a layer of depth to your site.
The entire Google Fonts library is at your disposal along with FontAwesome and Material Design Icons, so you can spice up your typography as well.
2) Monstroid2 Multipurpose Website Template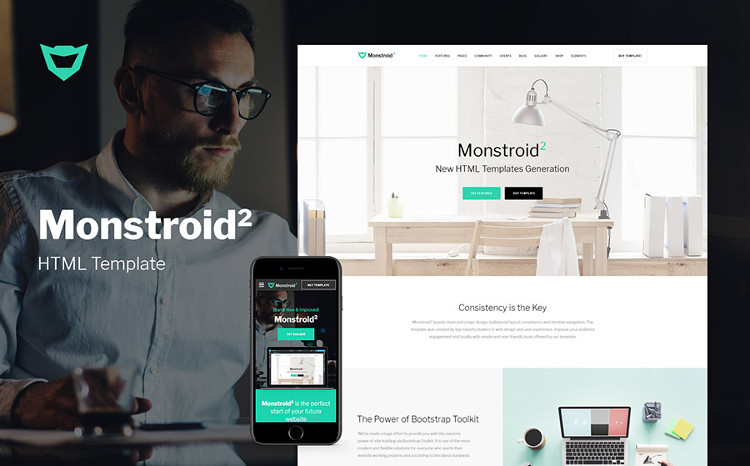 The sheer versatility of Monstroid2 is unrivaled by any other singular template, making it a perfect choice for virtually any website.
Its stunning selection of demos provides you with over 80 different skins for both personal and corporate websites.
Create a beautiful presentation of your business or supply your blog by an amazing gallery showcasing your content in a visually appealing manner.
Top-notch search engine optimization ensures that your site always ranks high in search results and can be easily found by your users.
It is one of Bootstrap templates and as result is perfectly responsive and runs extremely smoothly on all types of devices.
Its powerful Flexbox system is easily customizable and allows you to create outstanding layouts on the fly.
It even features event calendar functionality so you're always able to inform your visitors about all of your upcoming events.
3) Photo Studio HTML5 Template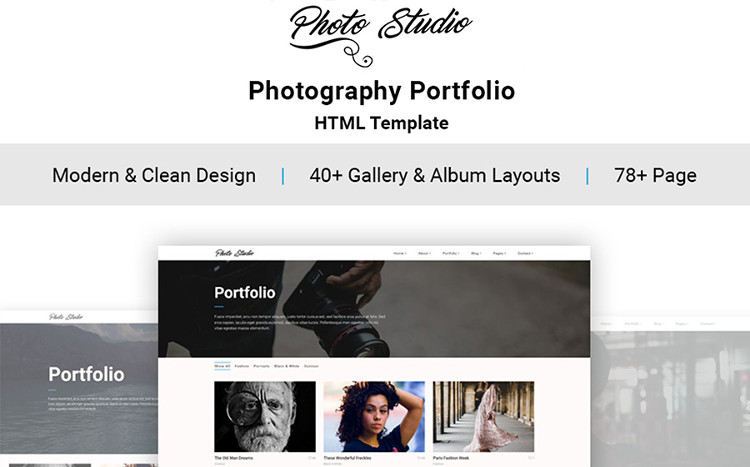 If you're looking to create a photography portfolio website to showcase your skills and best works, look no further than this template. It will fit both bloggers and professional studio photographers.
Receive 7 unique homepages, 18 different albums and as many as 16 variously-styled galleries to showcase your best works in.
The theme's code was written carefully and is extremely clean, readable and most importantly, optimized for performance.
Create a full-on blog sharing your secret techniques with your audience.
Add a video onto your background for more impressive and engaging user experience.
Take advantage of the built-in slider to impress your visitors from the second they enter your site.
The theme's fully responsive layout is perfect for browsing on both desktops and handheld devices.
Let your visitors know about the whereabouts of your studio with the help of a customizable Google Map.
This template is perfect for creating a unique and attractive website for a transportation company.
Its image-heavy layout consists of rectangular content blocks that can be arranged in a manner you like the most.
Its elegant and thought-through typography is displaying your textual content in an appealing and easy-on-the-eyes way.
The integrated Google Map lets you pinpoint your depo's location on the map.
Pick out from a variety of pre-designed pages and use the ones that fit your style best.
Awesome parallax animations can be used for creating a background that has a feeling of depth to it. Perfect for depicting moving vehicles!
Use a variety of forms to create newsletter subscriptions or even let your customers reach you directly.
Use good-looking animations and cool-looking transitions in order to create a design that is both informative, engaging and good-looking.
5) Modicate Multipurpose HTML5 Template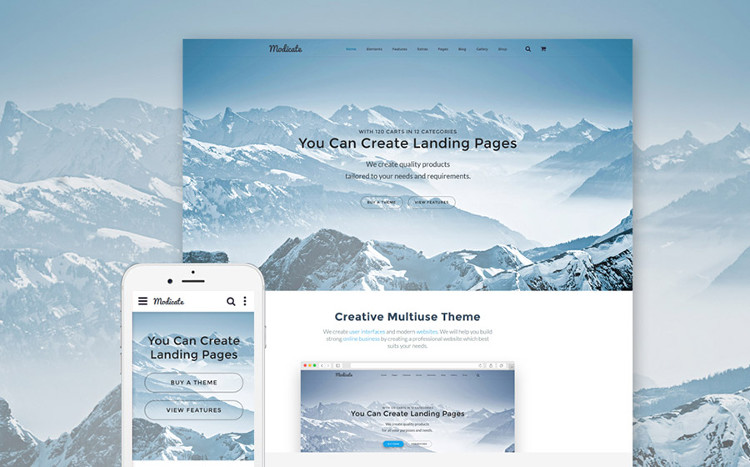 Modicate is a contemporary multipurpose template based on the latest version of the Twitter Bootstrap framework.
It comes with 58 pre-designed pages as well as a good number of various headers, footers, and content blocks.
Take advantage of the multitude of included Gallery types like Grid, Masonry and Cobbles to supplement your content with beautiful imagery.
Pick one of the 6 provided blog layouts and create a fully-fledged blog to communicate with your visitors about topics you're passionate about.
The theme also comes with a variety of eCommerce store templates, so you're easily able to turn your page into a selling platform for whatever goods you offer.
Navigation is done through a convenient dropdown menu that lets your visitors access any of the desired pages easily. You can also create your own menu designs with the help of the Mega Menu plugin included in the package.
6) KingNews Multipurpose HTML5 template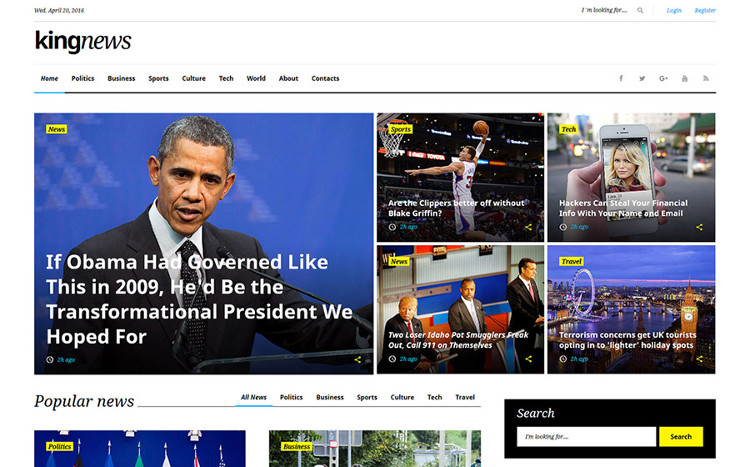 KingNews is the perfect choice for news portals, online magazines, and blogs.
Its rich UI kit includes over 30 pre-designed pages, multiple header & footer layouts as well as a selection of handy widgets like Calendar, Instagram, Twitter, Tags and more.
The theme is jam-packed with animations and transitions, creating a very engaging experience for your users.
Its fully responsive Bootstrap layout adapts to the screen size of your user's device and looks pixel perfect even on the tiniest of resolutions.
The source code of KingNews is very easily readable, well-commented and optimized for the fastest possible performance.
A neat contact form gives your users the ability to reach you directly.
The back to top button ensures that you can never get lost in your content and an organized dropdown menu can be used to access all of your pages easily.
7) Brave Responsive Multipurpose Website Template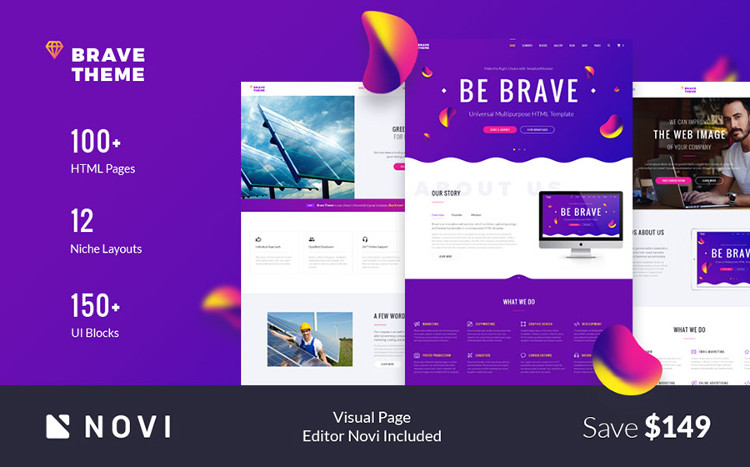 Brave is perfect for creating a professional and highly profitable website regardless of what type of business you own. It can easily be customized to fit the needs of any type of site.
It provides you with over a hundred of pre-designed pages for all occasions along with numerous elements and content blocks to make customization easier.
It is integrated with Novi an extremely handy visual page builder that allows you to create completely unique layouts without ever touching a single line of code.
Create stunning galleries to present your business in the most visually appealing way possible.
Turn your page into an eCommerce store and pick out from dozens of store layout templates.
It even features a cool countdown timer so you're able to create awesome events and place a huge timer that ticks every second until they start.
8) SEO Website Responsive HTML5 Template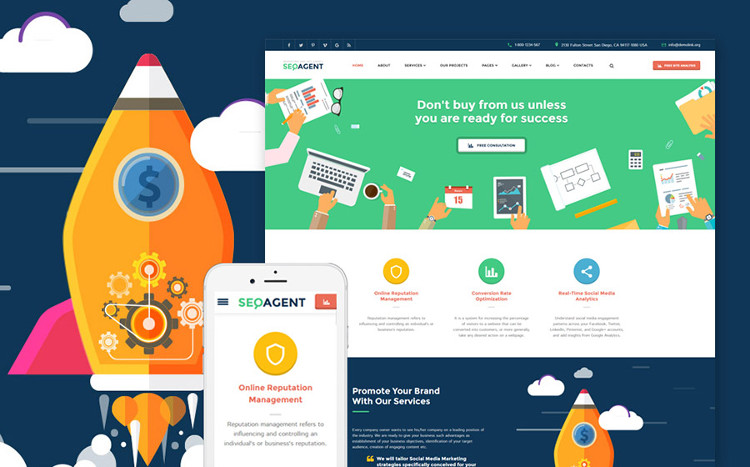 This template devoted to SEO websites features a cute, flat design that can be customized to fit any other niche as well.
Cool parallax animations really harmonize with the minimal flat style of the theme, creating a design that feels alive.
The theme is based on the Bootstrap framework and is fully responsive and performs well on all platforms.
Create an informative and engaging layout with tons of UI elements and content blocks.
Pick from a multitude of gallery layouts like Grid, Masonry and Cobbles to create the perfect presentation of your business.
It features 5 blog layouts and even Blog timeline, so you've got all your blogging needs covered as well.
The source code of the theme is extremely well-structured, commented and optimized for the best possible performance, completely eliminating annoying loading times that may put some users off your site.
9) Construction Company Responsive Multipage Website Template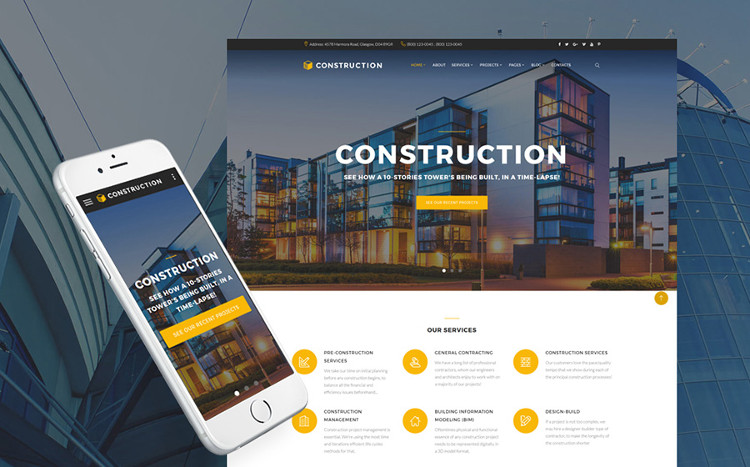 Create a powerful presentation for your construction or architecture business with this template.
Create a detailed portfolio and present your services in an attractive and informative manner with the help of the Projects plugin.
The Testimonials and Team Members plugin help you create a more professional feeling and win over the trust of your visitors more easily.
Place an astonishing slider right on the homepage to instantly grab your user's attention.
The four provided blog layouts include Grid, Masonry, Justufy, and Listing. Pick one and create an engaging blog telling you about all the latest of your company's events.
A handy contact form allows your customers to reach you directly and a newsletter subscription form allows you to create newsletter service.
The package also includes over 40 pre-designed pages as well as integration with the visual Novi Builder for extreme customization opportunities.
10) University Responsive Website Template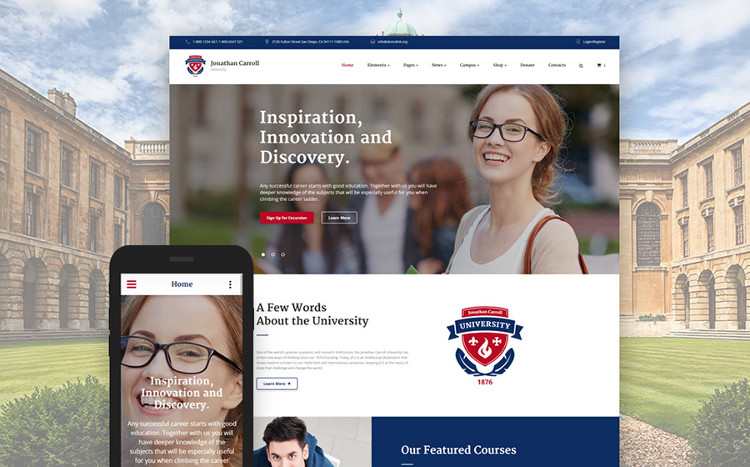 This template is made specifically for university and educational websites. Its well-structured design creates a feeling of professionalism and love for education.
The design is very image-oriented and is perfect for showcasing your services in the most attractive way possible.
Use statistics to display all sorts of information, for example, which courses are the most popular at your school to help students make decisions on where to enroll.
Pick from the selection of eCommerce store templates and sell your school's merchandise right from the convenience of your page.
Choose from a number of gallery types to show off your campus in a beautiful layout.
By means of a contact form, potential students are able to reach you directly and receive all the guidance and help they need. The live search form makes finding specific pages and content extremely easy.
In Conclusion
So, did you like anything on that list? Maybe you picked one of the templates for use on your own project? If so, be sure to tell us in the comments! Also, feel free to leave us a link to your website that you've built with our template, we'd love to see it! And if you didn't quite find the perfect match for your idea, be sure to check out TM's website. Their stock is constantly updated, so you're sure to find a fitting template for your design ideas.

Download thousands of Themes, Plugins & Graphics to create your Website. Use promo code ThatsJournal and get an additional 10% off
for All MonsterONE Plans
.
Disclosure: Thats Journal is supported by our readers. This page may contain affiliate links. That means, if you click on these links to make a purchase, we may earn a small commission (at no extra cost to you). These funds help us to keep this blog up and running.