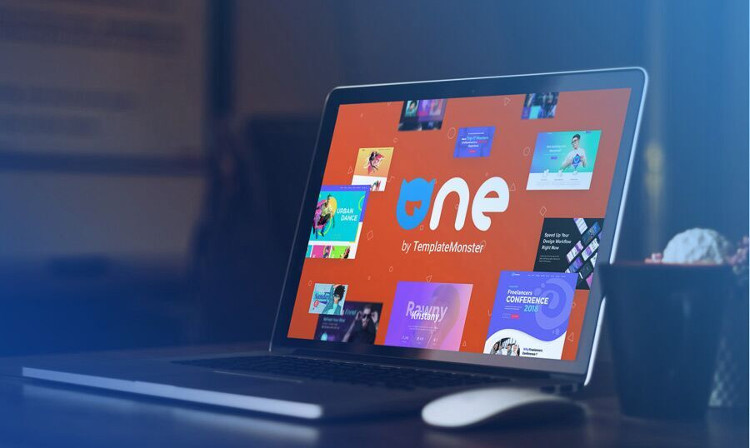 How much do you usually spend to launch a website? We mean in terms of time, efforts, and money. We guess the answer is – a lot. What would you say about everything in one package? The themes, plugins, graphics, support, and even hosting? Sounds not bad, yeah? Ok, we are here to tell you about the ONE membership offer from TemplateMonster that provides all these.
What is the ONE?
To put it short, the ONE is a subscription service which provides thousands of products for building websites. But that's not all, along with multiple top-notch offers, the subscription includes absolutely everything, from themes for different CMS and HTML templates to graphics and extensions.
You can take a look at the comparison infographic below. It shows similar offers from different providers.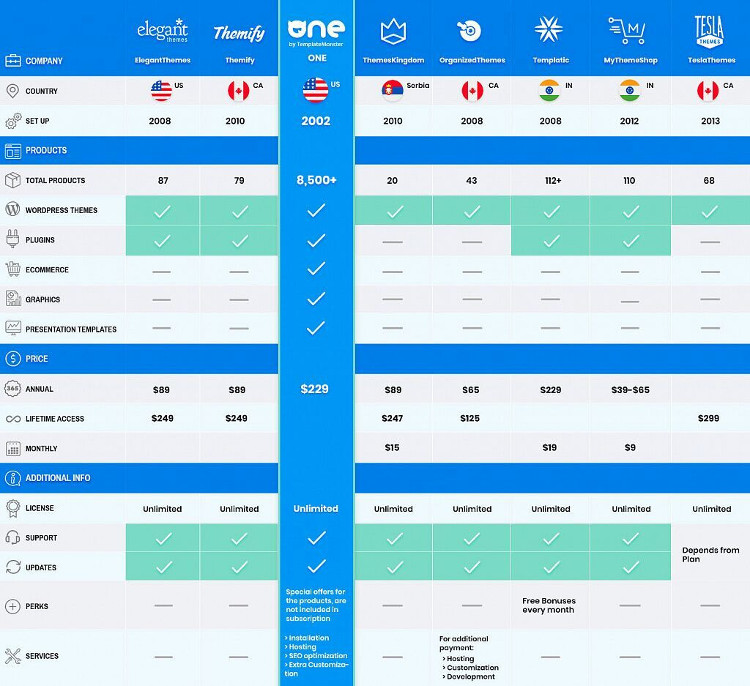 As you see, the difference is obvious. You get much more with the ONE at a decent price, though, the choice is always up to you.
Benefits of the ONE Subscription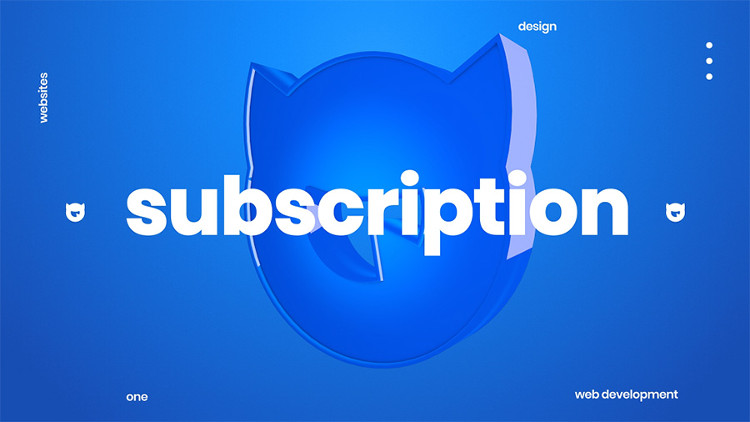 You can download freely everything you need for your projects. You don't need to surf the internet for hours. Just come to one place and have everything you need at hand. Download any number of products and use them.
TemplateMonster doesn't put any restrictions on the assets you use. For instance, if you love the product and want it for more projects, you're free to do so because licensing terms at ONE are flexible. They should cover your purposes.
You get a special bonus becoming the ONE member. You get up to 50% off any exclusive item from TemplateMonster. This is beyond the ONE membership, it's your personal discount.
One person can't be an expert in everything. That's why the ONE offers you extra services. You can significantly reduce the time you'd otherwise spend on learning different things. You can use extra services instead, they include pretty much everything, from website maintenance to SEO work.
It's important that fast & efficient support is also included. You can be sure that any of your questions will be answered by a professional support team. Support managers are always eager to help and handle the cases of any complexity.
The ONE has a friendly Facebook community where you can share your experience and find the best use cases, practices and effective tips to apply them in practice.
The ONE offers a pre-sales chat, which is great. The experienced operators are easy to get in touch with and are able to promptly answer any questions you might have.
What is the Goal of the ONE subscription?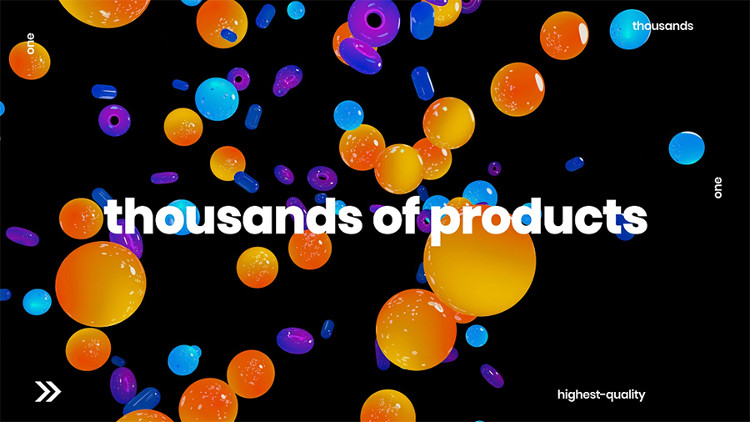 The ONE is aimed to save your money. You won't spend a lot on separate items as you will get everything in one subscription service. Isn't that what you are looking for?
The subscription saves your time. You don't need to look for the products you require as you already have everything.
The ONE saves your energy. With 24/7 support and lots of extensive services your back is always covered when you work on different projects.
More Information on the Subscription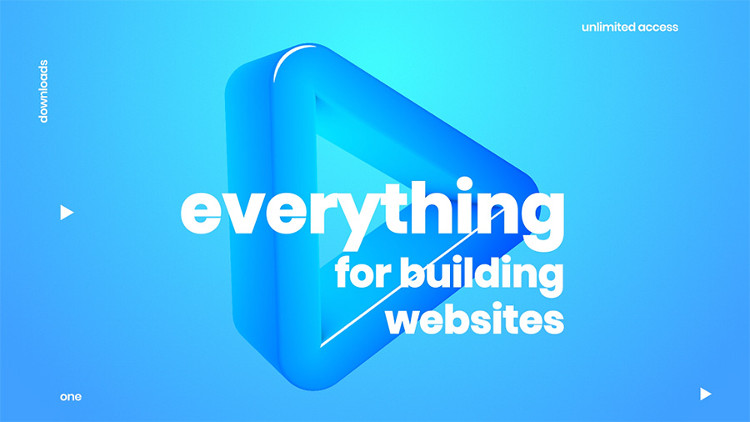 Please take a look what exactly is included in the ONE. The only subscription provides thousands of items for building websites, plus full support.
WordPress
WordPress Themes
Elementor Templates
WooCommerce Themes
WordPress Plugins
E-Commerce Themes
Magento Themes
OpenCart Templates
PrestaShop Themes
Shopify Themes
VirtueMart Templates
WooCommerce Themes
Plugins
PrestaShop Modules
WordPress Plugins
Graphics
PSD Templates
After Effects Intros
Illustrations
Certificate Templates
Logo Templates
Social Media
Resume Templates
Corporate Identity
Presentation Templates
HTML Templates
Landing Page Templates
Website Templates
Newsletter Templates
RU HTML Templates
CMS Templates
WordPress Themes
Joomla Templates
License Terms at the ONE Subscription Service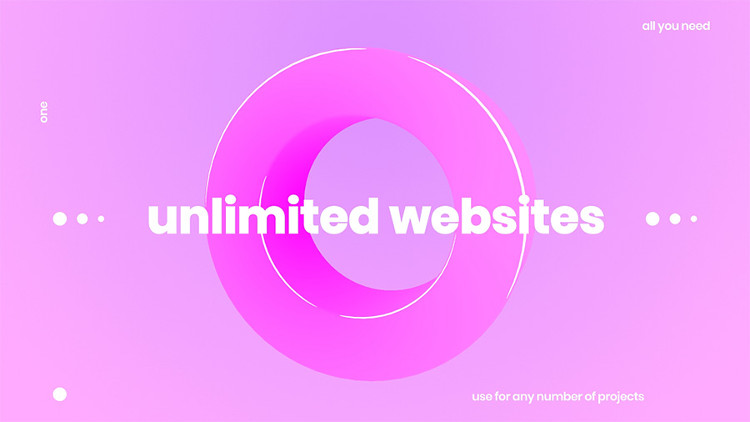 In a nutshell, the license terms at ONE by TemplateMonster are set to make it easier for you to work with the items coming with the subscription service.
During one year from the date of purchase you can use all the products provided in the ONE subscription on an unlimited number of installations.
You can download any product available in the Yearly Unlimited License and install it as many times as you need, on as many domains as you wish.
The items at ONE Service and at TemplateMonster Marketplace – are They the Same?
Actually the items at the ONE subscription service and at TemplateMonster marketplace are the same.
Yet, please note that some items are available exclusively at TemplateMonster marketplace. It's better to double check if a particular item you've seen and liked at TemplateMonster is available at the ONE service.
Don't get upset even if you haven't found the item you're looking for. You can get it with up to 50% discount as a bonus after subscribing to the ONE service. We have already mentioned that before.
No Limitations for Downloads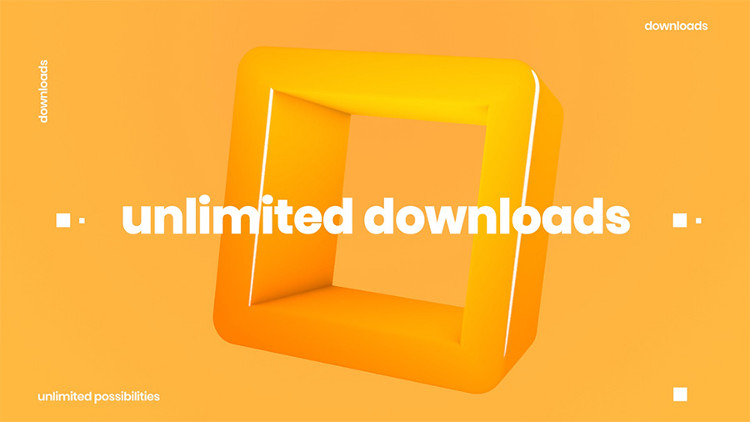 This is one of the frequently asked question. Are there any limitations for downloads? No, you can download any number of products you need for your projects.
However, please mind that mass downloading is not allowed because of safety measures, in order to prevent fraudulent actions.
You Don't Risk Your Money When Subscribe
Good news is that you won't lose your money if you decide not to use the subscription for some reason. You can claim for the refund if you haven't downloaded any products from ONE by TemplateMonster. You can do it within 14 days from the date of purchase.
Final Words
We hope you found this information interesting and will consider all the benefits of the subscription. Just imagine that you can get 8500+ items in ONE membership and pay only $19 per month (you will be billed annually). As you see, the assets include everything you need for fast and quality website design.
Can't wait to subscribe? Well, you can do it here. Have more questions as to the offer? Please drop us a line in the comments section.
We wish you best of luck with your web design and development business!

Download thousands of Themes, Plugins & Graphics to create your Website. Use promo code ThatsJournal and get an additional 10% off
for All MonsterONE Plans
.
Disclosure: Thats Journal is supported by our readers. This page may contain affiliate links. That means, if you click on these links to make a purchase, we may earn a small commission (at no extra cost to you). These funds help us to keep this blog up and running.