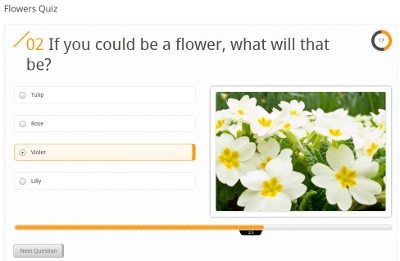 Quiz is a great new concept for engaging visitors in your blog. Because of the popularity of Facebook Apps it is even more easier to share it. By using this WordPress plugin you can add Quiz in WordPress as a custom post type and as a Facebook app. Users have to login to their Facebook account to access the quiz in the blog. Once they have finished the quiz they can post it on their timeline. It can be used in the blog or as a Facebook app. To play the quiz your users can log in to your blog by using Facebook login.
Here are the features of the plugin:
1) Multiple choice answers: You can add multiple choice answers in your quiz.
2) Plugin uses cookies: Even if a user clicks on the back button of the browser or if they close the browser the quiz will start from the point it has been left.
3) Timers for quiz: Timers for the entire quiz and for a particular question can be set up.
4) Fully responsive: Quiz is responsive to any device and screen resolution. It will work in all devices.
5) Shortcodes support: Quiz can also be added in pages or anywhere by using short codes.
6) Quiz supports point based system: You can assign individual points for questions. Total number of points for a particular user is stored. Users can check the top scores for a particular quiz.
7) Add images: You can add an image for a quiz question.
8) Facebook app: Plugin can be integrated as an app in Facebook. When users finish a quiz they get an option to share it in the timeline. They can also invite people from their friend list for the quiz.
9) Top scores page: A top scores page will be created for users and points are displayed. This will encourage your users to play more quiz.
Download thousands of Themes, Plugins & Graphics to create your Website. Use promo code ThatsJournal and get an additional 10% off
for All MonsterONE Plans
.
Disclosure: Thats Journal is supported by our readers. This page may contain affiliate links. That means, if you click on these links to make a purchase, we may earn a small commission (at no extra cost to you). These funds help us to keep this blog up and running.